Progeny Press
produces study guides for different books for all different ages. I used a few when the big kids were little for books like Mr. Popper's Penguins. But, I had sort of forgotten about them until I had the chance to review their study guides for middle school and high school students.
We got the chance to review the study guide for
C.S. Lewis' Screwtape Letters
. All you need to use their study guides is a thesaurus, a dictionary, a Bible......and the book.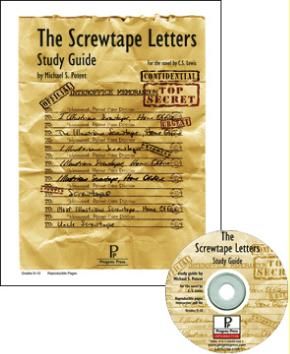 Most of the study guides are meant to be worked through in about 8-10 weeks. There is a lot of information in the guides. I mean a lot.
That is one thing that when I used these with the kids when they were littler that I didn't like. It felt overwhelming to me....and felt sort of like it sucked the joy out of a good little story. Those were back in the days when I thought I needed to do every single activity that was suggested to me. (I have since relaxed and just pick and choose).
But, for older students, I love that there is so much more to dig into than just taking the book at face value.
The study guides review a lot of stuff in addition to the storyline of the book. They review the author, some of the historical events/people that may be significant to the book, and have the usual questions to answer. Many of the questions also ask that you do some analytical thinking or form an opinion on your own, not just spew out certain facts about the book.
Ooh, these guides make you think. I love it! Sometimes the answers are not just right there in black and white.....you have to search your heart and mind.
Like, in The Screwtape Letters, the guide asks about whether you feel a Christian can lose their salvation.
What do you think?
Can you?
The study guide then goes on to say how easy it is to pick and choose scriptures to use (out of context) to prove your side of the argument.....and cautions against this approach. I know some grown ups who could use that advice!
Like I said, I have used Progeny Press guides before and I will continue to use them. D-man will be starting the
Lord of the Rings
trilogy soon and I think we may use their study guides for those too. I read those books for fun a long time ago....now I think I may want to see what deeper meanings were hidden in them besides "Preeeecioussssss........preeeeciousssssss......"
The study guides are available in a printed and bound booklet; on a CD in a PDF format; or as an e-mail attachment in a PDF format. The guides I used before (Mr. Popper's Penguins) I chose the printed and bound booklet and this time (The Screwtape Letters) I got the e-mail attachment with the PDF format.
I still prefer to have an actual physical booklet in front of me.....without having to use up my own ink. In this case, The Screwtape Letters booklet costs
$21.99
and the e-mail attached PDF version is $18.99. For me, paying the extra $3.00 would be worth it to have this on my bookshelf as a hard copy where you can flip through it.
Progeny Press has over
100 study guides
available and the TOS crew got to choose from them. Go take a look to see what books and study guides they chose.

I got a PDF version of the study guide for The Screwtape Letters for free in exchange for an honest review of their product.