Math? Really? Hopefully.
We had another opportunity to review an on-line math curriculum. It is
IXL.
Get it? I....X.....L?
This time we had A-man and L-Girl give this program a try.
This on-line curriculum goes all the way from Pre-K to Algebra. They have it divided by grade level, but if your child isn't a cookie cutter child and doesn't necessarily fit into their grade level, you can hide that information and just have them work on what they need to without having the pressure that they may not be working on the "right" grade level.
A-man worked in the first grade level which teaches 151 skills.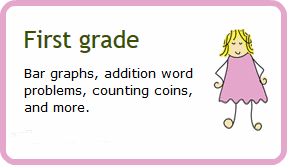 L-Girl worked in the 4th grade level with teaches over 200 skills.
A-man was
really
motivated by earning the rewards.
L-girl not so much. I mean, I don't think she was upset by getting them, but they are not a motivating factor in her desire to do the work.
Here is what the awards/sticker page looked like for A-man....
| | |
| --- | --- |
| You've earned | 26 medals |
| You've answered | 1,101 questions |
| You've practiced for | 3 hr 19 min |
| You've mastered | 18 skills |
| You've revealed | 16 prizes |
| Till your next win | |
Lili enjoyed working in this program. She really thought the problems were pretty easy overall. So, I had her "shop around" in other grade ranges to see how she did. That is a nice feature that with this membership, you have access to all grade levels....so, if your kids need an ego boost, they can work on lower grade levels. Or, if your kids want to challenge themselves, they can see what the older grades are all about....even Algebra.
The program seemed really easy for the kids to log in and find work to do on their own. I loved that IXL sent me a weekly report that showed me everything they had done....how much time they spent working on things....how many problems they worked.....and their Smart Score (from needs improvement all the way up to mastered). Without the weekly report, I probably would have forgotten to check on my own what the kids had accomplished.





I can go to the site and log on to see if there are trouble spots and lots and lots of statistics like how much a cumulative score increased or the performance statistics and how they either increased or decreased. There are lots of pie charts and graphs to show you the results, if you like that sort of thing.





We used IXL in addition to our regular math curriculum, but I think it would stand up quite well as a stand alone program too....if you didn't mind all of the work being done on the computer. I don't love that option, so I will continue to use it as an "extra".

IXL could also be a good option for people who worry about their kids forgetting too much of their math over the summer break. It is something that can be done quickly and easily throughout the day without supervision from you.

You can gain full access to IXL for up to 3 children for just $9.95 a month or for
$79
a year. If I wanted more of my kids to use this program, I could add them into the account for just $2.00 more per month or $20.00 per year.
If my kids aren't in the age range that you are interested in, go
take a look
at what other crew members kid's did and see what they thought.
Disclaimer: We received access to IXL.com for free in exchange for an honest review.