Okay, there really isn't any such thing.
But there is a spellingcity.com. Does that count?
I have some great spellers and some not so great spellers in my house. (On a side note, I will tell you this, their ability to spell seems to directly correlate with the amount of recreational reading they do.)
But, I digress.
We received a year long subscription to
Vocabulary Spelling City
that I can use for all of the 5 kids who are school aged.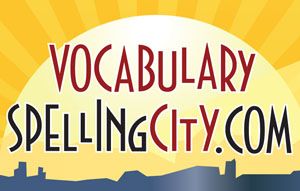 This site contains list after list after list of words that you can use for your kids. Lists to use to grow both their vocabulary and their spelling skills.
First you pick a list (from other's created by teachers/parents) or you create your own. Then you assign different games or tasks to individual children.
Vocabulary Spelling City has:
Over 42,000 spelling words with customizable sentences and definitions
A REAL person who says each word and sentence
Free home pages for teachers and parents to save lists
Free printable handwriting worksheets
Free teaching resources with lists and lesson plans
Twenty-five games to play online or to print such as:
Alphabetical Order, Unscramble, Parts of Speech, HangMouse, Crossword Puzzle, WordSearch, and Vocabulary Test.
A free forum and newsletters
I will say that, at first, I didn't really like this program.
It felt like a lot of work to go in and search out a list, import it to my personal page, and then go through and assign the kids their assignments. I was thinking, that I might as well just come up with the words myself and just make them write the words a bunch of times, like we did in the good old days. :)
I sort of threw it out there to the kids as something for them to
try
, so I could actually use the thing I was supposed to be reviewing.
Then, things got
really
annoying. The kids fell in love.
Well, maybe "love" is too strong of a word.
But, what would you think when one of your children had finished the assignments you had given and then proceeded to nag you into assigning some more for them?
Or, what if, even after you assigned more, that child zipped through those 8 assignments and when you said you didn't have time to assign more and it was
okay if they didn't do anymore this week
....proceeded to ask if it would be okay if they went in (with my login information) and found some lists and assigned themselves some work?
Hmmm?
I mean, yes, we are weird homeschoolers.....but we have never been
that
kind of weird homeschooler!
And that is what happened. I did end up letting L-girl log in as me and find some stuff for her and A-girl to do because they had both finished everything had assigned them....before its due date!
So, now, I go in and assign things to the kids more frequently.
I will shamefacedly admit that it really
isn't
hard. I really don't know what my problem was in the beginning. I really must have just been in a bad mood that first day when I went to look at the site and decided to be whiny!
Because....now.....
I love it too. I do.
Seriously, the kids are always announcing that they need the computer to do their spelling homework....and then that is what they
really
go on-line and do! This program also does the grading for me. I can log into my account and see exactly who has done their work, and exactly who hasn't (D-man, I am talking to you!) and how they did on the tests and things.
There are lots of ways to search for lists. Here are a few examples....but it will be best if, on a day when you
aren't
whiny or in a bad mood....you just go look around.
You can search for lists by your local school....so if you want to try to make sure that your kids are at least keeping up with their public school peers....you can see what words they are doing. That said, obviously, not every school in the world has registered and created lists on Vocabulary Spelling City!
You can also pick from lists that are State capitals, or science and math related words.....or, what I am planning to do with D-man and A-girl is create a list using their Latin/Greek root words cards. Those are some hard words!
You could even search out lists that are being used in other countries. I searched and found lists that were being used at a bilingual school in Kobe, Japan. And, even lists for armed services throughout the world.
There are lists all the way up through 12th grade, but there aren't a lot of lists to choose from, and, honestly, I didn't think the words were that hard. But, I could go in and create my own lists of harder words if I wanted to.
Most of the lists I have used are from specific books. Like for S-girl, I assigned her work from Good Night Moon, but I used Little Women for L-Girl and Percy Jackson for A-man.
My kids have really liked the word searches and HangMouse (Hangman...but with cheese and a mouse instead of a stick person hanging themselves).
The one thing we didn't try with our Premium Membership was creating our own flash cards and the Language Arts Lessons. We already cover lots of this stuff in our normal curriculum....but when we get to these sections, I have already written myself a note to incorporate some of Vocabulary Spelling City in their week.
Language Arts Lessons
Video lessons, classroom ideas, featured Premium games, printable worksheets, and vocabulary lists
Again, my initial dislike was
totally
misplaced. I think, other than the fact that I was cranky, we also only have one computer for the 8 of us to share....so, while I would like to take time to peruse the lists and take my time creating or finding just the right list....I am usually rushed out of my chair by someone else who needs the computer.
I have figured out that it is okay if I don't personally check and approve every single spelling word on their list. It will still be okay. It is also okay if the lists end up being too easy for them once in a while. It will be okay.
So, do we like Vocabulary Spelling City?
Absolutely.
The less whiny I get, the more I am using this in our school days.
I have actually created a special area on my lesson plan to write in Spelling City! I had to redesign my form and everything! Which means, when my free membership runs out, I will be renewing it for the family. It really is a good deal for a spelling curriculum for 5 kids for a full year.
You can subscribe and get a Premium Membership to Vocabulary Spelling City
for up to 5 students for 12 months for $29.99
.
Here is information about what a Premium Membership can do.
There is a Basic Membership that allows you to share lists and do a few of the spelling activities, but not the vocabulary tests or work with antonyms, synonyms or make your own flashcards. The Basic Membership is
free
. Try it out. I am sure you won't be a whiner like me!
Go see what others on the TOS Review Crew
thought of Vocabulary Spelling City.
Disclaimer: We received a year long subscription to Vocabulary Spelling City for free in exchange for an honest review.