We had a chance to try out another downloadable study guide from
Progeny Press
.
This time, we tried one intended for middle schoolers, based on the book,
Carry On Mr. Bowditch
.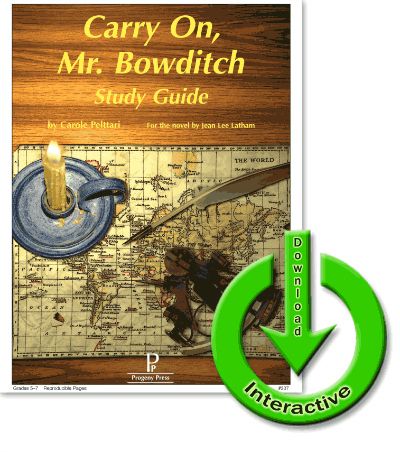 Progeny Press has study guides available all the way from lower elementary grades - starting at Kindergarten - all the way up to high school. We have used Progeny Press before (
2012
and
2013
). We used the lower elementary grade ones in the past, a few times.....before TOS reviews. I can remember
Mr. Popper's Penguins
. Which we did way before the Jim Carrey movie! But, I didn't love them for the younger grades. However, I have definitely become a fan of the study guides for older ages.
I thought about trying the study guide for
Sarah, Plain and Tall
, since I had just recently forced my girls to sit and watch it with me on t.v. and they ended up loving it. (Glenn Close is really an awesome actress.), but decided that we should have fresh material, so Carry on Mr. Bowditch won out!
Anyway, L-girl was my student in this age range for this book....middle school. Carry On Mr. Bowditch, by Jean Lee Latham is categorized as a children's biography of Nathaniel Bowditch. The actual book is available through
Progeny Press
or other retailers, like Amazon.
I was interested in this study guide because I have seen this book on
list after list after list
of recommended reading for homeschoolers. Seriously. It is everywhere. It was written in, 1955, I think. ...and received the Newberry Medal in 1956. So, yeah, sort of old. A classic. So, I knew that it might be written in a slightly less easy to understand manner, but, in my mind, that was actually a good thing.
I think contemporary books/literature are, for the most part, written well under kids reading levels. I want my kids to struggle a bit and even have to look up words or ask their meaning. I am pretty sure about 80% of my personal vocabulary words were gleaned from reading books and figuring them out and not from actual vocabulary lists in school.
Anyway....back to the review.
I understand why Carry On Mr. Bowditch is included in a lot of homeschool reading lists. Because Nathaniel Bowditch wasn't able to attend school in a traditional manner because of his life circumstances, but ended up educating himself. One of the most interesting facts about him is that the book he wrote is
still
used by sailors today . It is called
American Practical Navigator
and nicknamed Bowditch.
Here is how the study guide actually works. Students will need whatever book the study guide is based on (obviously), a dictionary, a thesaurus and a Bible - since these are written from a Christian perspective. Which means there can be discussions about choices characters make and how that relates to teachings from the Bible.....that sort of thing. They also recommend a topical Bible or concordance (but we didn't use one with this book).
For the middle school and high school study guides, Progeny Press recommends working on one section of the guide per week, which means you will usually finish the guide in 8 to 10 weeks. We are not done with ours yet because we were out of town for part of our time. You are supposed to read the entire book first and then start working through the study guide. (L-girl was taking too long to finish reading, so, since I had the review coming up, we jumped into the first part of the study guide before she finished.)
The study guides start out by giving you background on Nathaniel Bowditch (and the author and illustrator too), it even gives a summary of the book before moving on to the "pre-reading activities"
In this book, some of those activities were things like:
Research what an indentured servant was and write a paragraph explaining what their life would have looked like in colonial America
Give the dictionary definition of the word, diligent. Now, read Bible passages to see what is said about being diligent. (Proverbs 10:4, 21:5, 22:29) As you read, pay attention to how Nat (Nathaniel Bowditch) was diligent, even when it was hard.
See the beauty of this kind of guide? You are giving your students background information that will be crucial in how they attack the book and how they understand the book.....again, looking at it from a Christian/Biblical perspective that hopefully, they can relate to their own lives.
Then the study guide goes on to cover the different chapters. Each section has activities for vocabulary words, characterization (I liked the first paragraph in this section that recommended sort of keeping a cheat sheet of the different characters that were introduced and a few traits for each of them - to help you keep track of them as you read. I actually might have to start doing this myself. I waste a lot of time flipping back and forth trying to remember who certain people are and how they are related to the story/character these days....so, I just might have to do it too)
The Characterization section would have questions like:
How did Nat's father react when he was asked to join the privateer crew? What does that tell you about him, as a person?
Then there are the standard, informational type questions about the setting of the book and that kind of stuff. But, from here, they move into thinking more deeply about what you are reading:
What did a privateer do to help the war? Granny called it piracy...do you agree or disagree? Why or why not?
It was at this point that L-girl said, "Well, shoot....I am going to have to slow down and think and not just read." Okay, she didn't actually say that, but her eye roll did. Hahahahahaha!
This study guide is considered interactive, so we could have filed in answers in the guide itself, but I am sure you have heard me say that I am a paper girl still....so.....we chose that option.
Some of the sections have a Dig Deeper section where it would delve into, well, deeper things. Some of them are Biblical perspective on things the characters said or what Bible verse it was based on and others were just deeper vocabulary digging for what certain phrases meant. Or, even deeper yet, the "what would you do in that situation" questions....that we all hated in school, but now, as a grown up, I am constantly running scenarios in my head and trying to figure out what I would have done. (Go figure....school stuff that would have been actually helpful for me.)
This guide actually threw in a little geography here and there too, which is a nice little bonus, since we love geography around here. (On a side note: There are a LOT of islands I have never heard of.) The good news for me is that this study guide came with an answer key, so I could just use that to correct most of the answers. Obviously for the questions asking for L-girls opinion or what she would do, I had to do some actual thinking.
I liked the Progeny Press study guides for this older age much better than I liked the ones we have used for the younger elementary ages. L-girl, in her own mind, would have been just fine only reading the book, but, I can see how making her slow down and think through some of these things is going to be a very good thing for her. She will see it too.....some day.
See what other
TOS Reviewers thought of their Progeny Press
study guides.
You can get the Carry On Mr. Bowditch study guide for
$18.99
. I don't think I mentioned it before, but you can get the study guides, as a CD, a physical copy, or a downloadable e-guide.
Follow Progeny Press on social media: