I never thought much about modesty....until I had daughters....daughters who I knew were going to grow up and be beautiful...not just in my eyes because I am their mother....but, in the eyes of the world and strangers too.
I started noticing the kinds of clothing that was available for my daughters when they were little. I started seeing little girls in bikinis. Cute? Well....yes....in a way. Disturbing? Some of it was definitely disturbing.
I remember being uncomfortable when men would look at me in
that
way. Could that be part of the reason that I gained weight? Nobody looks at me now. Ever. I am sort of invisible...if you know what I mean.
Anyway, back to my girls, I didn't want my girls to experience those kinds of looks or sending any possible unintended messages of "sex".
So, my girls don't get to wear bikinis, short skirts, short shorts, low cut shirts or clothing that is too tight or grown up looking. But, seriously, am I supposed to wrap them up in paper bags?
Have you been shopping in the Junior or even the Childrens department lately?
It is almost impossible to find anything but those options at normal stores. The low rider jeans. The short skirts. The shirts with cut-outs.
No thanks.
So, my dilemma is finding clothes that make my girls feel stylish without feeling Amish...or like they should be best friends with Laura Ingalls Wilder and live on the prairie someplace.
It is a lot harder than it seems.
So, when we got the chance to try out a sewing curriculum from a company called
Modesty Matters
. It hit on two things for us.

Sewing. My two oldest girls, A-girl and L-girl have been messing around with my sewing machine for about a year now. They are teaching themselves what they need to know. I am trying to supplement what they learn with what I remember from 7th and 8th grade Home Ec class. I am sure that I have shared with you at some point that my mom finished
both
of my final projects for me because I was too busy crying over my terry cloth short set and my Laura Ashley inspired sundress, to finish them on my own.
Modesty. See all my reasons above. Giving us some skills and options to sew their own clothes that are modest and NOT Amish. Yay!!!
This curriculum is called simply
You CAN Sew!.
It comes with a lesson book and 65 video lessons on DVDs. It also has printable patterns....(which I have always wondered how to use the patterns where you just print them at home on your printer. Now I know!)
Now, I will say, when you first hop over to the Modesty Matters website, the dresses do seem like they may be a bit Amish and Half-Pint-ish....but don't let that scare you away. They do have
patterns
available for classic A-line dresses, jumpers, and skirts. Like these ones.....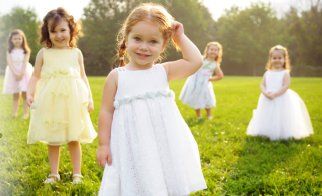 Aren't they cute?
But, if you are looking for
historical, period costumes
like colonial dress or bonnets, they have those too!
If you need help figuring out how to use that sewing machine you inherited or picked up at a garage sale....this curriculum is definitely for you. It is really detailed in going through the parts of the machine and how you get the machine to do the things you want it to.
Admittedly, this part, since we have already been casual sewers, was a bit boring....but, I did learn some things. I learned a lot about fabric and fabric choices that I might have learned back in Home Ec class....but I don't remember it at all....so I was impressed and had a few light bulb moments.
So, for absolute beginner sewers of any age, it fits the bills.
The lessons are very short, so you could do more than one a day. I liked that they gave homework assignments.
There were field trip recommendations to fabric stores(which we didn't do). But, it did give me good ideas of future field trip options, especially if you can find a helpful, friendly fabric store assistant to help you.
(I liked the idea of practicing your stitches, both straight and zig zag, on lined paper so you can make sure you are really going straight.)
I really liked the teacher in the series. She had one of those friendly, jolly voices....sort of like a young Mrs. Claus, that just felt like she was going to burst into laughter at any minute. I liked listening to her. My girls thought she sounded
too happy and excited
about presser feet, seam rippers, and zig zag stitches!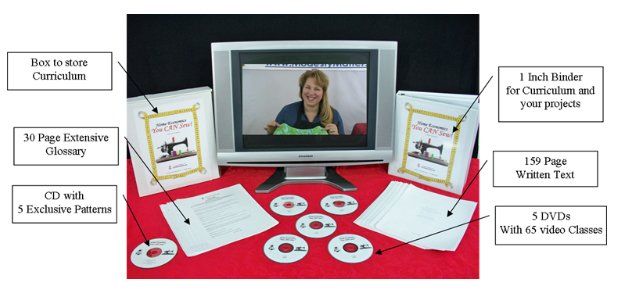 (See? Doesn't she look happy and jolly about all things sewing???)

I would recommend this sewing curriculum to any beginning sewer or anyone who sews a little and just needs a little confidence booster (I got the courage to tackle some simple curtains) or clarification that they really do know what they are doing.....and, if not, the seam ripper is your best friend!
A-girl felt confident enough to tailor these pants for herself. She is going for the skinny jean look. I was going for the
semi
-skinny jean look that didn't show off every single curve she has!
Before

(For the record, I did make her take these out a bit
. I mean, seriously, how do you even get these past your feet?)

This is something that I will definitely pull out earlier than ages 10 and 12 with S-girl and V-girl....so instead of stumbling through their beginning sewing projects, we will do it sequentially with the full knowledge of how our machine works.
I still think it is helpful to have someone in your life that really knows how to sew though. So, if you can find someone to help mentor you, I recommend it. For me, it was my mom. For my girls it is a wonderful lady, named Betty, from our church. She is encouraging and helpful and full of knowledge on how to sew.
After we had worked on our Zig Zag homework, our sewing machine started sewing backwards, like we were pushing the reverse button....only we weren't. Betty, sat down with A-girl and helped her figure out how to fix the problem and get it sewing in the right direction! Oh, and why are bobbin thread was really messy on the underside of our projects.
We made pin cushions and are looking forward to completing our aprons and dresses that came with the program.
You can get this full 12 week curriculum for
$159
. This is definitely something I will pull out and review when I need to do certain projects....and I will refer my girls to the lessons when they work on their projects independently.
If that price seems to steep to start off with, go check out some of the
free stuff
that they have on their site, like a tutorial on how to make cute little ruffled, little girl socks. Scroll all the way down to the bottom of the page to see all the options, including some paper doll clothes that match the Modesty Matters dresses.
They also have a whole section called
Fun Crafts
where you can get patterns to make gifts for Her (like a sachet pillow), or for Him (carpenter apron), clothes for your 18" doll, or a nursing cover up. Personally, I am looking forward to the Coming Soon option "Leisure Pants".
Their website also has a place under
favorite links
that you can find their favorite fabric stores....both real life and on-line options for discounted fabrics.
See what the
other lucky reviewers
thought of sewing with Modesty Matters.
Disclaimer: We received the Modesty Matters You CAN Sew! program for free in exchange for an honest review.