It used to be the "essentials" you needed for writing were some new quills, a fresh pot of ink and some parchment. Fast forward a few years and you needed several sharp #2 pencils and a fresh sheath of paper. A few more years forward you would find a (insert name of typewriter) typewriter with fresh ribbon. Now things are digital and you may not need any of those other tools for writing.
What hasn't changed is the need for basic spelling, (yes, spelling you texters out there!) grammar, and composition skills.
Luckily for my kids, I have received access to a great comprehensive writing program/language arts program called
Essentials in Writing
- Where Students Learn to Write by Matthew Stephens.
This time around, A-girl got to try the
program for 7th grade
. Here is what their website says about the 7th grade curriculum:
Your child will learn: detailed sentence structure, additional grammar, additional capitalization/punctuation rules, proper use of a friendly letter, using the writing process to compose narrative, descriptive, expository, and persuasive writing (including formal paragraphs), and five paragraph essays, compare and contrast writing, response to literature essay, effective writing skills, multi-paragraph composition, the process to complete a research project, other forms of written communication, and other topics.
We had already begun focusing on the five paragraph essays. Something that I find funny that my kids think is "soooo hard", because for some reason they all think five sentence essays are plenty of information!
Anyway, this program touches on a lot of stuff that A-girl needs work on, sometimes because we haven't really covered it yet and sometimes just explaining things in a new way. Mr. Stephens is so infectious in his enthusiasm for this topic that, I think he was a way better fit for A-girl than my more laid back (boring) approach to teaching writing.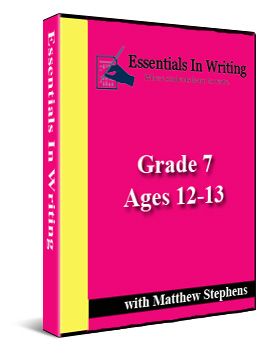 This particular grade level comes with 4 DVDs, 3 are the teaching DVDs and the 4th is one that has all the worksheets and various assignments on it. Essentials in Writing is actually in the process of changing this up a bit and will soon offer PDF versions of all the worksheets, etc. (UPDATE - Essentials in Writing has just completed this, so all workbook pages, regardless of age level are available in a PDF download).
This course covers about 120-130 class periods - 150 class periods if including grammar review. There are 53 video lessons and 143 workbook pages.
So, basically, you watch a little short lecture/lesson that takes maybe 10 or 15 minutes. Then you print off the worksheet or assignment and work through what you need to. None of this has taken A-girl very long at all - probably 30 minutes tops on most days.
I mostly let her use this program on her own without too much input/assistance from me. I did watch a few of the teaching lessons with A-girl and here is what I noticed. The lessons are sort of like a college lecture style. He stands at the white board writing out examples, talking the students through whatever it is he is trying to teach, and asking for input or answers to various things.
I had one of those "light bulb" moments that my kids - A-girl on down - have never sat in on a lecture series (unless you count the ones mom gives about messy rooms).
Mr. Stephens appears to be speaking in front of an actual classroom. Because of this, he never really had eye contact with the camera. It always looked like he was looking just below the camera lens. I found it annoying. A-girl assured me that you get used to it. I appreciated his repeated references to writing drafts and that you will go back and edit and make changes. Somehow my kids have a "one and done" mentality when it comes to writing and editing makes them angry.
I will say that you can tell Mr. Stephens loves his work. Unlike some of my college professors that took to lecturing in a flat monotone voice, Mr. Stephens still seems excited about the material he is teaching and isn't afraid to show it. Although, because of that, I wondered if A-girl would take him seriously. You know?
Here is a sample from one his lessons towards the end of the program on putting together a research paper.
Here is what A-girl thought:
The lessons were short (
even though she complained at first that I was making her watch them
).
You get used to the fact that Mr. Stephens isn't looking at the camera.
The actual writing assignments are broken down into smaller bits so they don't seem like too big of a deal.
He made quite a few spelling errors on the board that he had to go back and fix.
(Welcome to the club, Mr. Stephens!)
I plan to continue having A-girl use this as her writing curriculum for the rest of the year, even when my review period is up, because I really feel it is a strong program that she has responded well to.
The Seventh Grade Essentials in Writing Program is available for
$40
. I will go out on a limb and say that is a great price for a lecture style writing curriculum - that depending on your child, can be used with as little or much parent time involved. Even if you opt for the pre-printed workbook for
$20
. That is still not a bad price.
The Review Crew took a look at all the
different age levels
available in Essentials in Writing, so if you aren't looking for ideas for a 7th grader, go take a look and see what they thought of the other levels.
Disclaimer: I received a DVD ROM of this product through the Schoolhouse Review Crew in exchange for my honest review. I was not required to write a positive review nor was I compensated in any other way. All opinions I have expressed are my own or those of my family. I am disclosing this in accordance with the FTC.