Oxymoron?
Nope. It is a fabulous product/company that is going to help us handle helping our children go to college and finding a way to ....pay for it!
Pesky little detail, isn't it? Paying for college.
This is one of those reviews that is not just for homeschoolers. I repeat....this is NOT just for homeschoolers. Keep reading public school friends!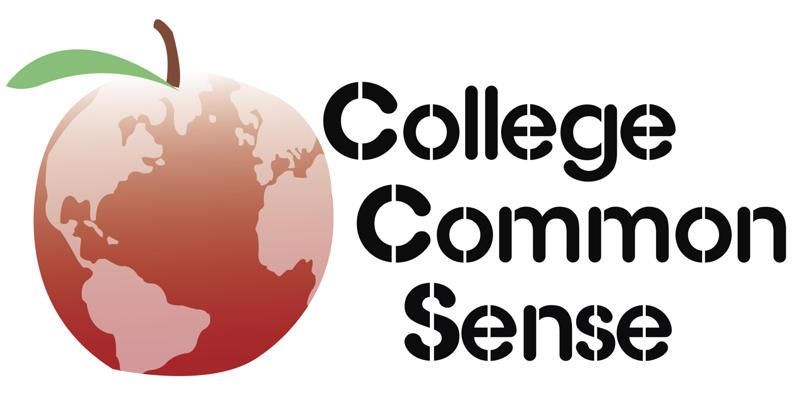 The product is called
Going to College and Paying for it Online Video and Workbook
by
College Common Sense
.
There seems to be a mindset these days that
everyone
should go to college and it doesn't matter if it costs you an arm and a leg and a loan whose fine print terms costs you your firstborn child.
When I was in high school that wasn't really the case. You certainly could go to college and my parents encouraged us to get additional education, but not necessarily at a 4 year school, and certainly not to get it while amassing a huge loan to hang over our heads.
My parents didn't pay for college for us, (except for you, Kandi
). They did help us. We worked. I got a miniscule scholarship. But, really, we were all clueless. For some reason, there wasn't really a lot of help or guidance at my school and my parents certainly didn't know how to help us get scholarships or "free" money for school. And, really, it probably boiled down to the fact that we didn't know who or what to ask about anyway. We just knew that my Dad made just enough money that we didn't qualify for financial aid.
That is why
Going to College and Paying For It
is a fabulous product for your student. Officially, it can be used with
any
aged student, (there are even scholarships available for as young as 6 years old!), but it makes a lot of sense for high schoolers and even, in some cases, middle schoolers.
I guess it is even for parents. But, I think most parents have some idea of how much college costs and the value of financial aid and scholarships, but not necessarily how to get our kids there. For example, I didn't even know what the FAFSA was before we started this program. (
Free Application for Federal Student Aid).
What is has done for us is open D-man and A-girls eyes to what it really takes to get accepted into a school, to come up with money to pay for that schooling, and how to keep the money coming in.
Here, before we move on and I tell you about how Going to College and Paying For It has worked at our house, watch the creator of this program, Denise Ames, who has worked in college admissions and financial aid offices for over ten years. Watch and see what she has to say to parents.
What this course boils down to is that the job of a parent at this stage in life is to be the navigator and guide your kids through the process of furthering their education. Did you catch that? Help guide them....NOT do it for them.
Here is how this course works. There is a workbook and six videos to watch. We reviewed this program on-line, so we printed off PDF versions of the workbook pages, accessed her free lesson plans, and logged in and watched the videos on-line, and then did our homework on the workbook pages we printed off. But, there is a physical workbook and DVD course also available.
The six video segments are:
1. The Big Picture
2. How Financial Aid Works
3. All About Free Money
4. The System That Works
5. You In The Process
6. Pull It All Together
I love how much of the responsibility for finding "free" money (also known as scholarships and grants) is put on the student to find people or entities that are willing to invest in their education.
Your child has to
find
them and figure out
how
to get them to invest in them. And.....this part is important.....not just wait for this money to fall into their laps....by the ever elusive "college fairy"!
While I love the personal responsibility part of this program, it also makes me a little nervous, just like I feel when D-man, with his crisp new driver's permit, is behind the wheel, instead of me.
I think one of
my favorite parts
of this program was towards the beginning of the program when D-man and A-girl had to pick their top schools and fill out worksheets on the
actual
cost for attending those schools. They had to go dig around the schools website and find the information that showed the costs of room and board, tuition, textbooks and any other expenses there may be.
Boy, was that an eye opener for all of us, but especially A-girl, who has dreams of going to a school like Julliard. I think it helped both of them take thinking about college now, rather than later, more seriously, because they are going to have to come up with some serious money.
See, we have told the kids that we will
try
to help them with paying for school, but we won't be able to pay for it completely. They have known that since they were little.....in theory. I think actually looking at some of the numbers, was a little depressing for them.
But, Ms. Ames really goes into great detail on how to wade through this information, piece by peice, step by step.....and she does repeat some of the things over and over (which the kids found kind of boring). I took that to mean this stuff was
really
important.
She recommends that with your younger students you work on this once a month and when you students are older (high school aged) this is something that you work on at least one day a week. I told the kids to think of this as an increasingly important part-time job for them.
Do not, I repeat, do not, wait until your child's senior year.
My hope for this program in our family is that none of my children will end up like many young people I know who have a college degree for a job that will pay them $20,000-$25,000 a year, but also student loans to pay back that are $100,000+.
Not a good outcome.
This program will be used at our house over and over again. I plan to pay the $25 a year for the 12 month access, because then I know the information will be the latest and up to date. She seems to be really good at updating all her website helps and links so they are up to date and accurate.
Ms. Ames has a lot of helpful information available on her website and even has a
free newsletter
that can help keep you on track and give you ideas as you move into the college years. She even offers
free lesson plans
so you can get an idea of what she has in her College Common Sense course.
Again, though, I really think this course is well worth the $25 for the on-line access. There are just so many details of how getting into colleges...and paying for it that no parent or child can keep track of on their own. It can be overwhelming. Deadlines can be missed. Essays can be skipped because they are hard. But, with her systematic approach, it is all doable.
The downside to this program for some people may be the the video is not super high quality. There are simple slides and some shots of Ms. Ames talking (sometimes she isn't even looking at the camera that is filming her). This stuff didn't really bother me, but it may be annoying to some people. I just chose to listen to all the helpful information she was handing out.
D-man and A-girl have started a binder for all of this information, that they will continue to add all of information and to keep track of what information they have gathered, and eventually move into creating a scholarship binder to... keep track of everything that is needed to keep track of everything.
Like I said, it will sort of become their part-time job through the high school years.
I love that Ms. Ames is helping encourage them to be organized to create a way for something as simple as making sure that they don't miss any deadlines for scholarships. She helps point the way through her common sense approach and sort of nags them, so you don't have to! I guess, in a way, Ms. Ames is that magical "college fairy" after all.
So, don't wait. Start the process of Going to College and Paying For It with your kids now.
There are
two ways
you can get some College Common Sense in your household. You can get the DVD and workbook for $55 (includes shipping and handling), or go the on-line access route and pay $25 for 12 months of access to the program.
Read what others on the
TOS Review Crew
thought about College Common Sense.
Disclaimer: I received free on-line access to this product through the Schoolhouse Review Crew in exchange for my honest review. I was not required to write a positive review nor was I compensated in any other way. All opinions I have expressed are my own or those of my family. I am disclosing this in accordance with the FTC.