We got the chance to try a really interesting math curriculum from
A+ Interactive Math.

It was called
Adaptive Placement Test and Individualized Lesson Plan.
It is a 3 month subscription program for the test and lesson plan.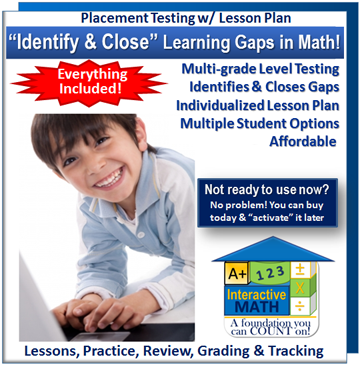 This, to me, is a completely brilliant idea for the homeschool community. Completely brilliant. Because, yes, we homeschool parents do occasionally fear that we are missing something, or not challenging the kids enough. But, with the fear comes confusion too, because even though we may be afraid that we are missing teaching them something.....we don't really know what it might be...or where to start.
That is why this is such a brilliant product to offer. Feeds right into the fear, but gives us a solution too.
L-girl was the guinea pig for this one. Lucky girl. LOL
She started by taking the series of placement tests. They are mini tests that cover all the major concept areas....then, based on her results, it created a lesson plan just for her.
That was one of the coolest things about A+ Interactive Math. That is wasn't just a generic...."Hey, you are in 7th grade...this is the math you are
supposed
to do." Instead, you really get a "Hey, it doesn't matter if you are really smart in this area and also slightly behind in this other area....and right in the middle on this stuff....
here
is the math you need to do."
Completely brilliant concept, right?
I was hoping that after L-girl took the test her results would be that we were doing awesome and that she had no true gaps in her education. But, as I had already suspected, she did have a few gaps. Not a lot, but they were there.
But, no big deal. No reason to panic or think I was screwing up my child's education....forever....or some other totally overly dramatic parental statement that we homeschoolers sometimes make!
Because, those results were followed up with an individual, targeted lesson plan designed to close her gaps.
So, after L-girl took her series of placement tests (about 14 mini tests on the different concepts), she just logged into her lesson plans and did her work a few times a week.
The lessons consist of a lecture type lesson with visual aides, sound effects, colors, etc.. My first, gut reaction, when I sat through a lesson on polynomials with L-girl was that I think I could have done really really well with this program back when I was learning algebra. Again, I never know if it is my age or the fact that I am so removed from Mr. Anlauf and the paralyzing fear of my formal algebra education. But, I get it. Now. I didn't back then.
A+ Interactive seemed to make things easy to tackle and broke them down into identifiable chunks of information. After the lecture lessons, you have access to worksheets so you can practice what you have learned.
I asked L-girl if she felt like this program explained things better than Rainman and I did. She said that she didn't think so, but, noted that they did sometimes explain it different than we did. I suppose that could be both a good thing and a bad thing. I asked L-girl if she liked this program or felt it was different and unique.
She just said, "Well, it is math. So, I guess it isn't any different. It just explained how I was supposed to do something. Then I just did it. Regular, old math."
Again, looking to drag things out of my teenage daughter. I asked her if she liked A+ Interactive Math.
She said, "I guess. (long pause) I didn't dislike it."
So, there you have it. A glowing recommendation from my 13 year old daughter. She didn't dislike it! HA!
Her indifference aside, I still say the best part of this is that it enables you to identify potential learning gaps in your student and then address them. After that, it might just be "regular old math" to your student, but the stuff that they
need
covered or to spend extra time on, is what they are
actually
learning. That has got to be a good thing.
If nothing else, it gave me peace of mind that I don't necessarily have when we are just winging it. You know?
Click
here
for find out the top 12 reasons for doing the adaptive placement test and individualized lessons.
A+ Interactive has some free stuff available for you, even if you aren't ready to commit to a subscription.
Free Math Placement Test:
Free Family Math Packages:
Free Software Download:
Free Single Grade Level:
Free eBook:
But, wait! There's more! :)
They are actually having sale right now on both their Family Math and their Adaptive Placement stuff!
(50% to 71% OFF).
So, do yourself a favor and at least go check it out.
During the sale, the subscription for the Adaptive Placement Test is $29.99 for one student. Not too shabby for a little homeschool peace of mind, right?
See what other TOS Reviewers thought of
A+ Interactive Math.
Some of us got to try out the Family Math plan.