My family recently received a one year Premium membership at
Big IQ Kids
.
Who doesn't like that name? I mean, everyone wants their kids to have a Big IQ, right? It can't be just me....right?
This site that has both Free and Premium options available.
First, the Free stuff: They have free versions of their Spelling/Vocabulary; Math; U.S. States; and Spelling/Vocabulary Competitions.
Premium stuff: Math; Spelling, and U.S. Geography.
They also just added a new SAT prep vocabulary program that works on word mastery and not just memorization....that has me sort of intrigued...however, we have not used it yet.
How it works
: One of the fun parts for the kids was to create their virtual "buddy" that would be them on the various pages. For L-Girl and A-Girl, they spent a lot of time getting them just right, from hair color/style to their outfits and accessory choices!
The kids log on to do their lessons in each subject. There is a computer generated teacher for each lesson....sometimes it is a man, sometimes it is a woman. They talk to you throughout the lesson, for example, tell you what to do, give you your spelling words, etc. I will warn you that these "teachers" talk in a computer-y/robot-y voice that is a little, shall we say.....startling. Seriously, every time I hear it, I jump a little bit!
Each time they complete a lesson, they earn a coin. The coins can then be used to play games....or, if they want their "buddy" to have a new outfit or hair color, they can use the coins to change up their look too. It is sort of like going to the fair where each ride costs a certain number of tickets....in this case, the games cost a certain number of coins. With the Premium membership, there are like 3 pages of games for them to choose from.
It was interesting to me that L-Girl used up her coins as soon as she got them, while A-Girl liked to save hers up to use them later in a big chunk.
This program recommends that you log on daily to complete the lessons, which typically take about 10-15 minutes.....I will admit that we didn't do exactly that. A-Girl and L-Girl spent a lot more time than that the first week or so and then it tapered off a bit and they were doing the recommended 10-15 minutes a day. But, then, my dad died, which limited all of our school time and especially our access to computers. If we had access to computers, it actually would have been a great way to "do school" while our lives were in such upheaval because of my dad.
You, as the parent are in control and always have access to see what they are doing and how well or poorly they are doing. There are reports you can access that show you information like how many problems they completed, the average time it took to complete them, total lesson time, and how many were completed correctly. You can even print these reports so they can be part of your official school records.
What I/We Liked
: I liked that the parents could easily see how the kids were doing in each subject...even if you don't have time to sit down next to them and watch them work. I like the reward system of the coins. One feature that I think is interesting for all you "mean" parents out there....you have some option on how you set up the games/coins feature. One is to only have the games available on weekends - so, for example, you would have the kids do all their lessons and work during the week and then would get the weekends to use up their coins as they saw fit. Another option would be for the truly "mean" parent....you can set it up that there are no games/coins options available....ever.
I am using the word "mean" with my tongue firmly planted in my cheek....as I can see possible reasons where parents would set things up this way. I just liked letting the kids have instant gratification...if they chose to....like I said, A-Girl liked to delay hers to enjoy all at once.
I liked that with the Premium Spelling program, it was done in steps...the first step was to type them on the computer, the second step was to actually write them down on a piece of paper (I feel like that step is the one that really gets words solidified in your mind). The number of times you had to write them depended on how many you typed incorrectly, in the previous step. It also included pop quizzes and finally a test on the words.
I liked that you could print out the math lesson and not do them on-line. I personally find math harder to do with a keyboard, especially when you are borrowing/carrying, etc. That being said, I thought the information about the average time it took to complete math problems when the lessons were completed on the computer, was really interesting and I can see it being helpful information to have come standardized test time.
I liked that you work towards mastery in each area and that the program doesn't let you move on before you are ready.
I liked their State Geography program and since that is something that we focus on already with our kids, they found it easy to do.....so, in their minds...easy access to game coins!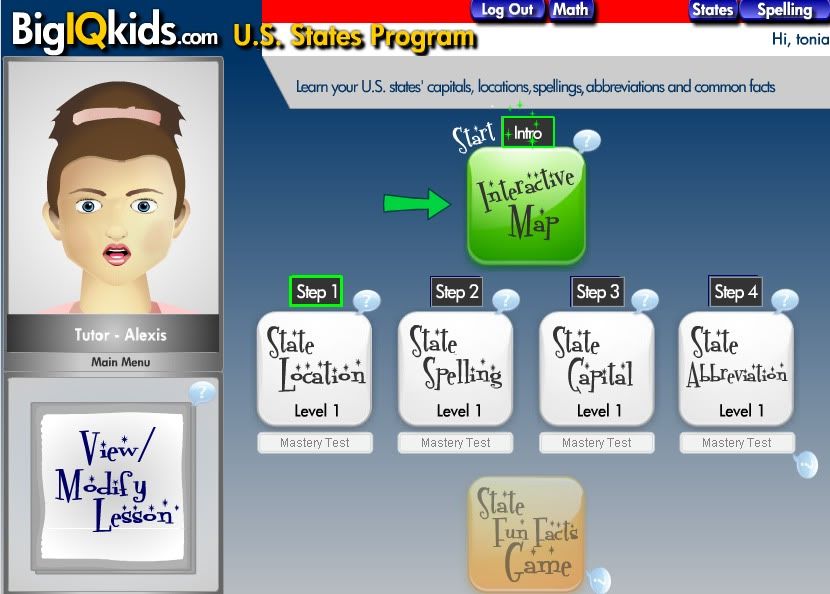 (See Alexis' mouth? She is getting ready to speak in her robot-y voice!)

I also liked, in theory, anyway, that you can customize the lessons to match up with what you are doing in your actual school lessons, for example, if your kids are working on double digit subtraction problems with borrowing....you can set up their math lessons to mirror that. I say that I like it, in theory, because it just takes more parent time to get it set up.....and in many cases it is just easier to give them worksheets or teach the lesson yourself.
What I/We Didn't Like
: I didn't like that if you changed your mind and wanted to go back and choose a new subject or look at the previous screen, and you push the back arrow, you were taken all the way back to the log-in page. I also didn't like that on the Premium Spelling page, when they would ask you to type in a word from your list, it would fill in that letter wherever it is located in the word.....example: If the word was interfering....when you typed in the "i" at the beginning, it would fill in the blank where the "i" goes at the end of the word too....same with the "e"....when you type in the first "e", it automatically fills in the next one. (When you are doing the Spelling Bee though, it doesn't fill in the letters until you tell it to).
My problem with any on-line or computer based schooling is that I don't have the time to sit with them and go through the lessons or even supervise....so, there has to be a certain amount of trust that the information they are going to be learning is okay. I didn't see anything that I was overly concerned about in Big IQ Kids.....but, it does seem like I just let them go learn and then check up on them later....I guess, in a way it is like sending your kids off to public school.....something we homeschoolers aren't used to doing....just blindly trusting that our kids are learning stuff and what they are learning is a-okay.
Overall, Big IQ Kids was a fun program that we intend to use as a supplement to what we have already chosen for this year. It seems like it really helps you focus on academic excellence....while still keeping things fun for the kids....always a good thing, in my book. They are all getting used to the fact that when they ask for computer time, after their normal school work is done, the first thing I say is....Do your Big IQ Kids first.
Cost:
There are free Spelling/Vocabulary, U.S. States, and Math programs available.
OR
Spelling Jr. for $7.99/month or for $39.99 for 12 months (works out to $3.33/month).
Premium Math for $9.99/month or $49.99 for 12 months (works out to $4.17/month).
Premium Geography for $39.99 for 12 months (works out to $3.33/month)
I am happy that we will still have time to delve deeper into Big IQ Kids with our Premium membership, because there is a lot of stuff we haven't even scratched the surface of. (Okay, I just ended that sentence with a preposition....I know....but I can't figure out how to change it, so it still makes sense....sorry!)
For more information on how Big IQ Kids works and what they may have to offer your family, click
here
.
My family received a one year Premium membership in exchange for an honest review of this product
.