In Minnesota, there used to be a chain of restaurant's that as a kid, we would get to eat at, once in a great while, called
Country Kitchen
. Apparently, they still exist...but I haven't seen one in a long time....good breakfasts...good coffee.....country decor. It doesn't really matter, since that is not what this post is even about, but just thought that you might be interested to know that, whenever I hear the words "Country Kitchen", I think of that restaurant.
This is actually a review for a really cute, kid's, country kitchen set, called the
Hideaway Country Kitchen
. The kitchen set came in a box like this for us to assemble ourselves...
(Don't my girls keep a neat and tidy room?)
I wanted to put it together when S-girl and V-girl weren't around....which didn't happen fast enough for A-girl and L-girl.....so, they kept bugging me and bugging me.....I finally, told them that if they read the instructions (and followed them), they could try to assemble it themselves.
So.....
A few hours later I had two exhausted girls and a new pretend kitchen! They had a few false starts and had to undo and redo a few things....but, in the end, it was a success!
This kitchen set is really adorable. It has white beadboard and a psuedo butcher block counter top. There are a lot of little details that really make it fun for the kids. It has a little sink and faucet. There is a reason why the faucet is mounted so high....which I will tell you later.
It has a clock with moveable hands.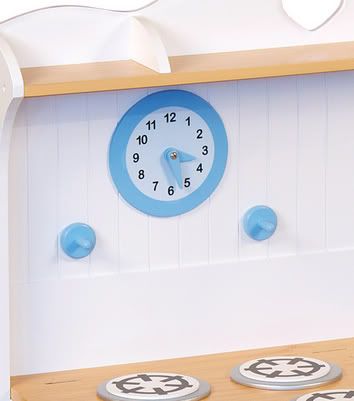 It has two little pegs to hold pot holders. It has a cook top and an oven with a see through door.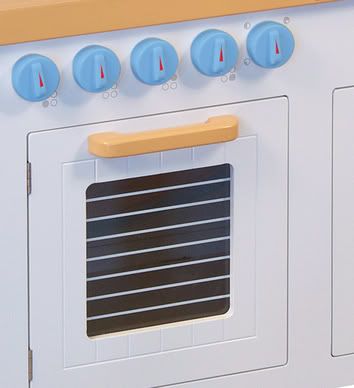 It has another cupboard under the sink. It even has a little shelf near the top for displaying your chatzskis (how exactly do you spell that?)
Oh, the hours of fun this kitchen has meant for my kids....especially V-girl and S-girl....but we have all been involved in their fun. I have consumed many meals prepared in this kitchen!
Tasting her soup.
(Do we ever wear clothes in this house?)
It has become
the
spot to find the missing sippy cups that have been carefully "put away" in the cupboard. (Sadly, we usually finally locate them when they have gotten chunky. Although, we are getting smarter and checking in the kitchen earlier!)
Instead of buying them their own pots and pans, I just let them use my little ones and some potholders that A-girl had made for me a few years ago....and the rest was up to them.
Now, parents, here is the coolest, awesomest, most spectacular feature that this Country Kitchen has....
Are you ready?
Voila!
The "Hideaway" part!
It folds up to 6 inches thick. Yup....really quick....really easy....S-girl can do it herself (and actually
likes
to because she likes to use the allen wrench). It folds small enough that you could slide it under a bed or do what we do and slide it behind our couch when we get tired of it being in the middle of the living room. This is the reason the faucet is mounted so high....so it can tuck into the sink when it is folded up.
What I like
: It is super cute and it has gotten A LOT of use around here. A-man has even been convinced to play a game of house every now and then....and has even cooked a few meals and wasn't just the "husband" on the receiving end of the goodies from the kitchen. I liked that it was semi-realistic looking with the burners and the knobs....the see through oven door....the clock. I liked that it wasn't in cartoon-y sort of primary colors, so I really didn't mind leaving it out in the middle of the living room.
What I didn't like
: Okay, now I said that one of the things I liked was that this was semi-realistic looking, but, that is also something I didn't like. The biggest thing that I didn't like about the realism of this product was the knobs to "turn on" the stovetop.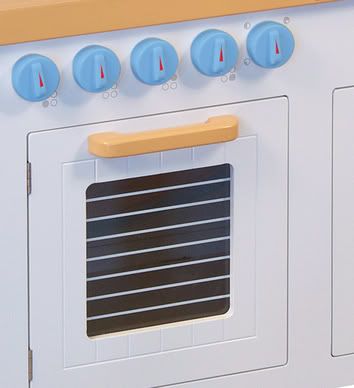 They make this annoying clicking noise. I mean
really
annoying. It wasn't a noise that I could get used to and tune out like I can with other noises or toys.....because they didn't just turn the knob and make a few clicks to get their stove turned on......they turned it back and forth....and the clicking noise worked when you turned the knob both ways. I am not ashamed to admit that there was quite a bit of yelling by the adults in the house that went something like this.....
"Stop turning those knobs!"
The knobs and their clicking noise also made me nervous because I have a gas stove/oven. In case you don't have a gas stovetop, what you do to get a flame on your burner, is turn the knob to the "light" mode, as the gas is released, you hear a clicking sound, then it lights the flame. It just makes me nervous that they are being trained that the clicking noise when you turn a knob on a stove is normal and no big deal.....because it could be....and it could be dangerous.
Here is the other thing I didn't like.....
Although this one little problem might just be unique to just
MY
household!
Guidecraft has a
lot
of other play kitchens available....go take a look
here
.
If you are interested in this Hideway Country Kitchen, specifically, it costs $200 and can be ordered directly from the
Guidecraft website
.
If you don't have a 9 year old and an 11 year old to assemble your kitchen for you, there are both assembly instructions and an assembly video available on the website too!

Take a look at what the other TOS Crew members thought of their Hideaway Country Kitchen
here
.
I received a free Hideaway Country Kitchen from Guidecraft in exchange for an honest review.