What does that phrase mean to you?
Does it strike fear in your heart that people will be staring at you because your kids are making noise?
Does it bum you out because then you won't be able to just relax in church and enjoy the service?
Do you think something like, "Well....yes....where else would the children be?"
Do you have a combination of those responses?
What do you think about the idea of dismissing the children for Children's Church?
Have you ever thought about it?
Wow, could I possibly ask any more questions?
Okay....enough questions for now........this is a review of a book, called
Children in Church
, Nurturing Hearts of Worship, by Curt and Sandra Lovelace.
It is being distributed/published by Hal and Melanie Young who operate Great Waters Press through
Raising Real Men
. Did you get all that? Here is Hal and Melanie....
They own and operate.....
Great Waters Press whose slogan/catch phrase is "Making Biblical Family Life Practical".

Love that. Not just some high-falutin' goal....but real, practical stuff.
Hal and Melanie Young are probably most famous for their book called Raising Real Men,
Surviving, Teaching, and Appreciating Boys
.

From their website:
A Practical Guide to Equipping the Hearts and Minds of Boys without Losing or Breaking Your Own
If this is God's chosen gift to us, then why does it seem so hard? How can we prepare these boys to serve God when we can barely make it through the day? Isn't there a better way?
The answer is yes.
I have actually downloaded this book and plan to read it soon. There are certain boys in my house that I need help both surviving and appreciating.
But, this review is about their soon to be released book, Children in Church, by Curt and Sandra Lovelace. Aren't they cute?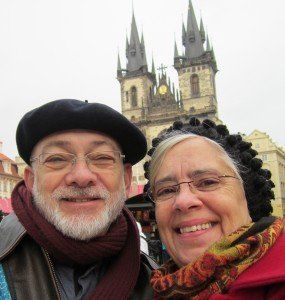 The authors have been serving in churches and missions all over the world. They have raised 2 daughters in what they call a "counter-cultural, Biblical approach to childrearing." (hmmm....am I using a counter-cultural, Biblical approach"? ) They are currently directors of Lifework Forum and are living in Prague, Czech Republic.
So, what did I think of their book, Children in Church?
First, I have to be quite honest with you.....I asked to review this book. I had a chance at another book....but I wanted this one.
Why?
Because, well, most of the time, I keep my children in church with me.
I wanted someone to tell me it was okay. That I wasn't really weird and too attached to my children.
Did the book succeed in soothing my fears?
Yup.
So, this book was a bit of "preaching to the choir" for me.
I had already been doing most of the things that the Lovelace's were teaching.
The focus of this book is to show you that it is possible to have a
meaningful
worship experience on Sunday mornings, with your whole family together.
Some of the book is explaining how they came to the belief that the Lovelace's believe that they were called to have their children in the worship service with them. They encourage the reader to explore scripture and prayer about including children in "corporate" worship. The rest of the book shares real life examples of training and techniques that they have used to help their own children, plus other children in their congregation successfully stay in the man service.
Let me clarify something on a personal level.
Believe me when I say that I am not opposed to having nursery or even Children's Church available.
Have I left my kids in the nursery? Absolutely.
Do I send them away to the nursery after they are about 2 or 3...no. By that time, I think they can learn how to sit with me in church.
Really, the nursery for me, was something that I used when my kids were between the ages of 1 1/2 to 2 1/2 years old.
I do not pass judgment on people who bring their kids to the nursery every Sunday....or who encourage their kids to attend Children's Church.
But, I was raised in a church where there was Sunday School at 9:00 and church was at 10:15. There was a children's sermon in the middle of the service where we would all go up and sit on the floor near the pastor and he would share a little snippet of wisdom from God. Then, we would go back to our parents and sit for the rest of the service.
I learned to be quiet.
Yes, I do have a few memories of my dad taking me outside for a "talk" (sometimes between his hand and my rear end) and coming right back inside.....where I had better not be crying.
I learned to listen.
Honestly, though, most of my early memories are of snuggling with my mom during church. I would snuggle, or more often than not, lay my head down in her lap. I would play with her necklaces or bracelets and she would play with my hair while we listened to the sermon.
I remember standing next to her while she balanced the hymnal on the pew in front of us. Her finger would follow along with the words so I would know what to sing.
I remember her finding pens for me in her purse and, then, I would doodle on the bulletin....sometimes she would get me started by writing words for me to copy.....sometimes I would just practice writing or drawing things on my own.
But really, what I remember most is that snuggle time.
Do I remember what was said during those sermons? No. I don't think I needed to hear the sermons back then. But, my parents did. The people sitting around us did. So, it was important for me to not distract them from God's message.
I learned to be still. I learned that it was a good time to have my mom all to myself. Listening to the sermons and applying them to my life came later....but I already had the skills to be quiet and present in the service...so it wasn't a huge leap for me.
Since I became a mother, people have joked with me that my kids basically went from being inside of me to relocating to the same place on the outside of me.
I usually wore my kids. I
never
carried them around in their car seat. I held them or I wore them.
When they were too big for the front carrier....I moved onto this kind of back carrier when we were out and about....although, I did
not
wear this at church. This is V-girl, A-girl and I in a house of mirrors.
But, anyway....my point is....I like to have them with me....remember, I do homeschool by choice. But I also like to have them with me in church.
Back to the message in the book,
Children in Church
.....
For me, when my kids are little, I really don't like them to be in the nursery (germs aside and, even if it is with really nice, loving people).
I have always wanted them with me.
So, I was radical (and maybe even counter-cultural) and kept them with me.
Even when we would attend a church as a visitor where I was repeatedly strongly "encouraged" to put my children in the nursery. I refused to be bullied into getting rid of my kids. It didn't happen often....but I can remember the times (and the churches) where it did happen, very vividly.
Trust me, if my kids were a distraction....I took care of it. I didn't just sit there and blithely ignore it. I didn't want to ruin anyone's worship experience.
So, like I said, this book was preaching to the choir for me. I have had my kids in church with me for most of their lives. They have learned to keep quiet. They have learned to listen.
Sometimes I get asked awkward questions about the sermon....like the time the guest preacher spoke quite clearly about David and Bethsheba having sex. Yes, he used those actual words. I had some answers to give.....later than day. But, you know what? I am glad that I was there to answer them and that I had heard exactly what they heard.
So really, how does keeping my children in church work for me?
We attend the 8:30 a.m. service at our church. I sing on the Praise team, and Rainman is rarely able to come to church with us. So, for much of the service, I am up front on the "stage" singing and leading worship, while 5 of my children sit in the second row.....alone. D-man runs the sound board for the early service, so he is busy in the back.
Are my children perfect little angels? No.
Do I occasionally have to give them an "I am watching you" look? Sure.
Are they occasionally distracting? Yes.
Like the time a few weeks ago, that V-girl left the pew, walked around the pastor who was listing off the announcements, came around the altar railing, picked her way through all the cords and monitors, came up onto the stage and whispered a
very
important question to me:
"Mom? When we get home, can I have a snack?"
But, you know what? She whispered it. I told her she could have a snack at home. And, later, we also had a talk about her waiting until mommy comes and sits with her to ask the questions. She hasn't been up there since.
She does sometimes dance in the pews. One Sunday morning, it turned more into a -
let's run back and forth
- kind of thing. So, I put my microphone down, went down and just quietly talked to her.
I didn't even have to use the scary whisper yell....that all of us moms know about. I just explained that even if the song was a fast "dancy" song, we didn't run in the pews and that she needed to go back to her spot and let mommy go sing.
She went back to her spot and was fine for the rest of the service.
She is living proof that even someone who has energy, spunk and an independent spirit can learn to sit quietly during church.
As much as I love singing in church and finding fun harmonies on the songs, my favorite part of church now, is the sermon. Partly because that is when my spirit is fed and challenged by Pastor Greg, but, also, because that is when I come down from singing and sit amongst my children.
It is a very exciting time. My kids fight over me. Yes. Me.
I know the day will come when that won't be the case....so, I am embracing it now.
They want to get to sit next to me. They call dibs on me when they are climbing out of the van on Sunday mornings. When I come to settle in....their little rear ends skooch over to make room for me...making sure that other siblings do not try to encroach on
their
turn sitting by mom.
Most Sunday mornings, I have one on each side of me.....and sometimes one on my lap. (I don't usually wear any jewelry for them to play with though.....I might have to do something about that. Mom? Do you have any of your old necklaces I can have?)
I rub their shoulders, I run my fingers through their hair, I trace their perfect little ear lobes, I marvel at how soft their skin is, and thank God for each and every moment I get with these remarkable, beautiful little people.
And, we listen to God's word together.
People have asked me how I have gotten my kids to behave so well and sit through church. I don't really have a magic answer....just that they have been in church with me since they were babies.....which is the message of this book.
Train them up....make it "normal" for them to be with you in church...keep in mind their age and plan accordingly with your church bag....or activity.
Children in Church has a very straightforward message that God rejoices when our families can be together and worship.
They offer a lot of great, practical ideas for activities that they can do quietly along side of you while learning how to behave in church.
I liked the ideas because they are not just quiet, time fillers. They are not just learning to sit quietly in church while they do some unrelated activity, like play a video game....read another book.....use their parents phones to fling angry birds at various structures The activities are actually designed to help your children learn about the different aspects of the service in addition to training them to follow along with the sermon.
I got some new ideas even for things like simple drawings of what the sermon or scripture lesson is about. Sometimes you, the parent, can start them with a picture....or half of a picture and they can finish it.....with the hope that the child would eventually graduate to actually taking notes on the sermon.
I believe it is truly important to know what your children are being taught. If you are sitting side by side with them, and they ask you a question later, you pretty much know what was said, the context in which it was said, and can spend some time teaching or clarifying the point.
I was reminded of the importance of this recently when I heard a story about a friend's son visiting a new church, with his grandmother. She sent him off to children's church, when the children were dismissed...I mean....why wouldn't you? It sounded fun.
But, apparently there was something taught very differently than what his parents and his home church had been teaching him. The child left very disturbed and confused as to which church was right.
I am
not
saying that children's church is bad. But, I do believe that we do need to guard our children and what they see and hear.
Like the old song. "Oh be careful little eyes what you see.....O be careful little ears what you hear" The only way we can be confident of knowing what their little eyes and ears are exposed to, when our children are young, is if we are right there with them, side by side.....listen to and seeing the same stuff.
On the flip side, I think many times, "children's church" has become a babysitting service for the kids too old for the nursery. I don't think that is good either.
For the record: My kids do attend Sunday School and various Bible Studies
without
me.
But, there is just something about worshiping as a family unit.
It just makes me happy.
This really is a wonderful little book. It was a bit rambling for me, at times, and covered some topics repetitively. But, it was an easy read, and, for me, just confirmed that I wasn't just a weird homeschooling mom who didn't like to let her children out of her sight!
Okay, so maybe I
am
a weird homeschooling mom....but, it made me feel that I maybe I wasn't so weird for keeping my kids with me in church.
You can get this brand new book through the Children in Church website, for
$12.00
.
The TOS Crew got a chance to review other books published by Great Waters Press. Take a
look and see
what they thought.
Disclaimer: I received an actual copy of the book, Children in Church, for free, in exchange for an honest review.