Honestly, I hardly know my neighbors here in Georgia....
To be honest, I didn't really know my neighbors in Minnesota either.
Maybe it is because I grew up in the country and we really didn't have "real" neighbors. I never learned how to be friendly, in that taking out the garbage or waving while you get the newspaper, kind of way. It still sort of feels weird to me that people know when I leave and what I wear when I take out the garbage. (By the way, in case you were wondering....it doesn't look pretty.....)
We are reviewing a book about "neighbors". This book addresses the fact that your "neighbors" aren't just the people who live right next to you.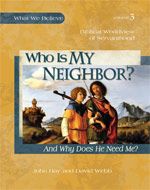 This book is the third in the series from Apologia, is called
Who Is My Neighbor? (And Why Does He Need Me?)

The first two books in the What We Believe series are:
Volume 1
Who Is God? (And Can I Really Know Him?)
Biblical Worldview of God and Truth
Volume 2

There is a 4th book coming up in the series too...called What On Earth Can I Do?


Basically, this third book focuses on developing a servant heart for your "neighbor".

God created me to be a blessing to the world
God chooses to work through me
I can make a difference at home, in my community, and at church
The church is God's family
The church is one body with many gifts
I am an important member of Jesus' body

"Two are better than one.....if one falls down, his friend can help him up. But, pity the man who falls and has no one to help him up."-------Ecclesiastes 4:9-10

The messages in these "What I Believe" series are really awesome. Really. It makes you think about.....well, I guess.....What You Believe.

Go figure.

I like to be alone. Sometimes. But, when I am alone too long, I crave human interaction. That is how God created it to be. He created Eve so Adam wouldn't be alone. He created "neighbors" for us.

When I moved to Georgia, even though I was surrounded by Rainman and our six children.....I was lonely. I started spending a lot of time with my refrigerator and the pantry. Really, no substitute for people.

Once I stepped out a bit, I found some wonderful friends (thanks Debbie and Sherri) through church that helped me find my new place in the world and a new place to be needed and feel useful.

This book uses stories involving a Chinese family that moves to America to guides you through a plethora of ways to understand God's plans for us. Like his plan for us to bless the world, marriage, the foundation of a family, what a parent's and child's job is within the family, why we should follow the laws of the land.....and who our neighbor's are and how we should treat them.

A bunch of really good stuff.

Like the second book in the series, Who Am I? (And Can I Really Know Him?) series, there is a notebooking journal that works through the lessons, leads you through discussion questions about the reading assignments, and has other assignments like crossword puzzles and ideas.....like watching Beauty and the Beast and looking for acts of love, compassion and sacrifice. There are also song and book ideas that tie in with the point of the lesson.

For example, some of the Lesson 1 discussion questions are: What is interdependence? Why is it important that every member of a team does his or her part? What does the Bible say about what makes you valuable as a child of God? What are some of the things you have to offer in your relationships?

If your child is willing to open up, there is the potential for some really great discussions about their place in the world and what individual, unique things they have to offer to the world and.....their neighbor.

We didn't get as far as Lesson 4, which focuses on Why Did God Make Families? and covers marriage. I am looking forward to discussion on this....because it delves into the responsibilities carried by the husband and wife.....what "submission" means....and covenant relationships. Good stuff.

Now, if only I can get my kids to open up and listen....but also to talk about what they have seen....what they want for themselves....what kind of spouse they want to be...not just the kind of spouse they want to have.

Again, I just really like the content in this series of What We Believe books....and I like the way they lay it out by telling stories....which then opens up the doors for discussion....which requires deeper thinking about how things are in the world and what we, as Christians, as supposed to do about it.

You can get Who Is My Neighbor? And Why Does He Need Me? from Apologia. The textbook is $39.00 and the Notebooking Journal is $24.00. There is also a coloring book available for $8.00....but so far, I have been using this with my older kids, so we haven't used that.

Take a look and see how others on the Review Crew used Who Is My Neighbor?


Disclaimer: I received a copy of Who Is My Neighbor? And Why Does He Need Me?, textbook, notebooking journal and coloring book for free in exchange for an honest review.