We got a change to try this cool history curriculum by
Golden Prairie Press.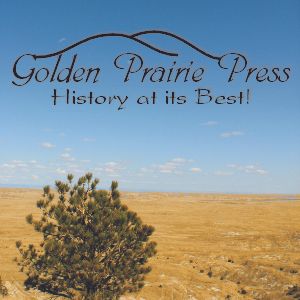 It is called
Heroes and Heroines of the Past - American History..
This was created by Amy Puetz who is a homeschool graduate herself. Such a neat curriculum with so many features that are hard to find in other curricula. I personally think that because the author graduated from homeschool, that is why this is such a unique program and includes things like historical skits and songs. I will go into detail about those later, but just know this is a unique and interesting history curriculum.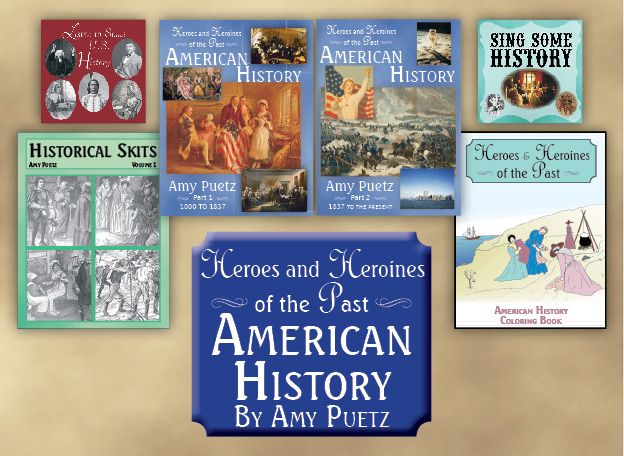 We got to try the
digital version of Heroes and Heroines of the Past
., designed for grades 1 through 6. This has 3 ebooks and 3 audio downloads. Here is a little detail on what is included from Amy Puetz's website:
Heroes and Heroines of the Past: American History Part 1 ebookHeroes and Heroines of the Past: American History Part 2 ebook
Additional Materials Downloads
There are printable timelines, instructions and entertaining videos, color artwork, coloring pages, and much more.
Historical Skits ebook
This book has nineteen skits from the time of Columbus to World War II.
Sing Some History CD
Hear some of the songs that are mentioned in the book. Music is a great way to experience history. 20 Songs: All the Pretty Little Horses, Lavender's Blue, Liberty Song, Chester, Johnny has Gone for a Soldier, Yankee Doodle, Hail Columbia, Tippecanoe and Tyler Too, Oh! Susanna, Missionary Farewell, Henry Clay, Sweet Betsy from Pike, Dixie, Bonny Blue Flag, Battle Hymn of the Republic, When Johnny Comes Marching Home, I've Been Working on the Railroad, She'll be Comin' 'Round the Mountain, Pop Goes the Weasel, and Uncle Sam's Rich Enough to Give Us All a Farm.
Listen to Some U.S. History MP3 CD
An audio collection of 20 original speeches, poems, sermons, and documents that are mentioned in the book. Includes: Mayflower Compact, Model of Christian Charity, Sinners in the Hands of an Angry God, On the Method of Grace, To King George on the Repeal of the Stamp Act, To My Dear and Loving Husband,Give Me Liberty or Give Me Death, The Midnight Ride of Paul Revere, Declaration of Independence, The Constitution, Bill of Rights, My Escape from Slavery, Inaugural Address, The Emancipation Proclamation, Gettysburg Address, Excerpt from A Diary from Dixie, Speeches by Red Cloud, The Atlanta Exposition Address, Christian Citizenship, and Sergeant York.
The recommended lesson plan is planned around 30 sections with 5 lessons per section. Usually, I would have done one section a week, but that didn't work into our schedule, this time around, so I did a few (3 or 4...depending on the week) lessons a week. My plan was just to use this with A-man, but S-girl started hanging around, so she joined in too.....and where A-man and S-girl are, you will find V-girl...so even though she was under the recommended age group....she learned a few things too. Mostly the fun stuff....but she learned....and that is what homeschooling is all about.
The ebook textbook has each lesson divided into appropriate age levels, like this.....
See? Right under the section/lesson title? This is for 1st and 2nd graders.
And, here is the same information for 3rd through 6th graders.
Same basic information, but the younger grades material is simpler information and a bigger font.
Since S-girl (and V-girl) ended up joining us, I decided that I would teach from the 1st-2nd grade section. I read aloud the whole 1st-2nd grade sections and then I would skim through the material included in the 3rd through 6th section and just read some of the more interesting tidbits to them.
There are lots of pictures, artwork, and maps to make things more interesting. I would say most of the time, we got through the material in about 30 minutes give or take a few longer days. For the extra activities, I usually had the kids work on outside of class time (unless it specifically needed adult supervision)....and show me the results later!
We had studied some of this material already in our school, but we always learned more than we had with other curricula. Honestly, A-man was sort of crushed when he learned that Christopher Columbus was kind of a jerk (and not a very good Christian) to the people of Jamaica.
This curriculum seemed to tell the history stories in a way that the kids naturally remembered/retained.
Weeks after we studied this in school, I asked A-man what he thought of Heroes and Heroines of the Past. He said that he had learned stuff that he didn't know before. I asked for examples and he spouted off that he didn't know the name Christopher meant "Christ bearer", then he told the story of when Columbus wanted the Jamaican people to feed him and his men while they were stranded. He remembered how Columbus had lied and told them he had the power to block the moon (since he knew when the lunar eclipse was supposed to happen), so they better keep on feeding him, or else.
He retained this
weeks
after I taught it.
This is definitely not the "remember the important dates for the test" and then forget it kind of history course.
Want to know my
favorite
part of this curriculum?
Yes, I like all the information. I like all the extras that are included like including scripture memorization, historical art pieces, timelines, the music CD, and all the other additional materials, like speeches, coloring pages, and skits.
All of that is fun. It is all interesting. It is all super unique to a history course.
But, my favorite was this page at the end of every lesson:
This page had the questions to ask your students either orally or written....for you moms that like tests. (Yes, people like me.) At the very least, you know that they are remembering the basics.
In our case, they
always
remembered more than these few questions asked.
This page also had the map activities to complete. One of Rainman's favorite subjects has always been geography, so he loved all the different map activities. They weren't all just locating places/capitals, but plotting courses that ships sailed.
This page has the extra, fun, hands-on stuff to make and do. The recipes. The crafty things. The games. We didn't do every single thing on these pages. But, there are lots of ideas.....lots of choices.
We did make a teepee (actually many different versions with different materials....took us awhile to figure out how to get it as tall/big as we wanted). We made Barbie-sized canoes. We made bread.
On my example page it talks about making a hornbook. We didn't make this one, but, it was interesting to read about it. Even if it was something we chose not to do or if we didn't have the materials on hand to do it....it was always, always, always, an interesting read.
You don't have to do these extra activity ideas, but they were a super fun bonus for us.
We love history around here already, but I have to think that these extras might be just the thing for a reluctant history student. It really just makes it much more
real
and not just random stories being told that you are supposed to memorize. You can really see and feel what it may have been like to be inside of history....and be a hero or heroine.
For your older students, there are additional literature assignments available. We didn't use any of these since A-man is in 3rd and S-girl is in 1st.....but it is nice to know that when they are older there is a way to dig even deeper into the people of history.
This is a
truly unique history and geography course
.
It is unique in its style of presentation and the way it tells the stories.
It is unique in that it focuses on the "people" or heroes/heroines in history...not just events.
It is unique it all the extras(crafts....recipes....videos....games.....music......skits) that are available to make it a more interesting and complete view of history.....without the parents having to go search them out.
It is unique in that most of the work for the teacher is already completed. The music is right there. The recipes are right there. The crafts/instructions are right there.
I will say, ebooks are hard for me/us. The kids would have to look over my shoulder as I read to them on the computer. They would have to look over my shoulder to see pictures and maps. It was annoying. If I had it to do over again, I would get a hardcopy of the textbook and keep all the extras as downloads. But, I am probably old fashioned and too low tech to appreciate the ease of accessing curriculum this way. That is really my only negative thought about this product.
I loved this course.
I loved the music. I loved the historical video available. I love that my kids are planning to work on one of the skits and film it. I loved the recipes. I loved the crafts. I even love that teepee construction is banned in our household.
You can try this truly unique digital curriculum of Heroes and Heroines of the Past: American History for
$98.99
.
Take a look at what other
TOS Reviewers thought of Heroes and Heroines of the Past: American History.