We got the chance to listen to
Wizzy Gizmo
, just in time for our big road trip this summer. It was an audio drama called
Who Created Everything?

This was a quick, easy, and fun review for us to do this summer. Who Created Everything? is an audio drama (radio theater) of the book of Genesis - Chapter 1. The goal of Wizzy Gizmo is to give your kids....and you.....a fun option to learn more of the stories from the Bible. Not that reading the actual stories are bad, this is just something....a little.....different.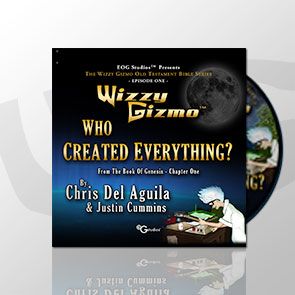 (The crazy gray haired guy on the CD cover is Wizzy Gizmo....in case you hadn't guessed! He also has his faithful assistants, a robot duck named Qwacky, and his Mexican dog, Pepe.)
It was a fun listen. The whole adventure only lasted a little over 30 minutes. The recommended ages for this was 4 through 12, but since we were all on the road trip, we all listened. The littles were disappointed when it ended and asked if we had the next CD. The bigs didn't complain too much, so I will consider that a win. I had fun listening. Rainman was in league with the bigs and didn't complain (or make fun of it)....so, I know he didn't hate it.
One of the ways that Wizzy Gizmo sets themselves apart in this genre of Bible based storytelling is their dedication to the factual representation of the Bible. This also isn't just a narrator telling the Bible stories dramatically. There are characters, like Wizzy Gizmo himself, an inventor, and others, that when the Bible gets plugged into the Gizmovision, go on an adventure to see what was really happening at the creation of the world.
Many times when you have audio dramas for kids to listen to, there is always at least that one kid that is a brat. You know, what I mean......the one that you would be totally embarrassed, if they were yours. Smart mouthed. Disrespectful. Mean.
The Wizzy Gizmo series didn't have that. All the characters were nice, wholesome, curious kids. Not a mean or sassy one in the bunch. Some will call that unrealistic. But, I call it a nice relief, that I don't have to teach another lesson after the audio drama was over.
You know the kind of lesson that starts the lecture something like this...... "Now, kids. I know that was funny, but don't you ever say/do what (insert characters name here) said/did. That is not okay. Trust me, if you did that, you would get in a LOT of trouble!"
I used to love listening to radio drama when I was younger. The old radio mystery theater ones, with squeaking doors and the sound of shoes walking away on the cobblestones. I like them now, too. Things like Garrison Keillor and the Prairie Home Companion series.
I love the different actors. I love the sound effects. But, most of all, I love that audio dramas help you create a picture in your mind of the action. Wizzy Gizmo has all of the great stuff I love. Different actors....not just one actor using different voices.....although, I will say the narrator....has an AWESOME mysterious voice. Sound effects. Music. And, most of all......it created pictures in my mind of creation.
There are 7 songs at the end of the CD, some of them are contemporary style music, like you would hear in church, others are orchestrated instrumental songs, with titles like:
Worthy Are You
Third Heaven
Everything
Let There Be Light
Sunrise to Space
Under Water Adventures
Creatures of the World
Go Forth
My kids didn't quite know what to do with these.....they wanted there to be action and kept expecting someone to talk.....nobody did. So, as each instrumental song started, I would tell them the title of the song and asked them to create pictures in their head to match the music. This is the point where I probably lost the big kids and Rainman, but, I think the littles and I thought it was kind of fun.
I have heard the creation story my whole life. But, I have never....and I do mean, never....pictured what it looked like while it was happening. Who Created Everything? got me to dream a little and imagine what it was like when there weren't animals roaming the earth or birds in the sky. It was pretty cool.
Want to hear a little bit of Who Created Everything? Here are
some samples
. Check out Day Three.....one of my favorites.
Wizzy Gizmo's goal is to help families live out Deuteronomy 6:5-6:
You shall love the

Lord

your God with all your heart and with all your soul and with all your might.
These words, which I am commanding you today, shall be on your heart.
You shall teach them diligently to your sons and shall talk of them when you sit in your house and when you walk by the way and when you lie down and when you rise up.
This audio series was perfect for our family to take on our road trip to see our family this summer. But, it could easily be used at bedtime or on shorter trips around town too....since they aren't super long. If we get more in this series, we will probably use them at lunchtime. Since, during the school year, we don't watch t.v. during the week (unless it is a special occasion or I am stressed out and need some quiet time
).....this would be a nice alternative to the usual kids t.v. available. Again, I love that this creates word pictures in our heads.....and requires a little imagination.
There are
books of this series
available also if you don't want to go the audio book route. I can see those as being great bedtime reading.
You can get the Wizzy Gizmo- Who Created Everything? adventures to listen to for
$14.99
.
See what other
TOS Reviewers thought of their Wizzy Gizmos
.