Middlebury Interactive Languages
is a program we got to try for
High School Spanish
.

I don't normally try to sign up for high school courses since D-man and A-girl aren't officially home schooled anymore. But, this one came around at the start of our school year when A-girl was starting in Spanish class at her school. She came home sort of dejected and worried that everyone else had taken Spanish last year, so she was going to be lagging behind everyone. So, she and I thought this might be a nice way to give her a little extra oomph in her Spanish knowledge to help her get caught up with (or let's be honest - this is A-girl we are talking about - what she really wanted was to wipe up the floor) with the rest of her class!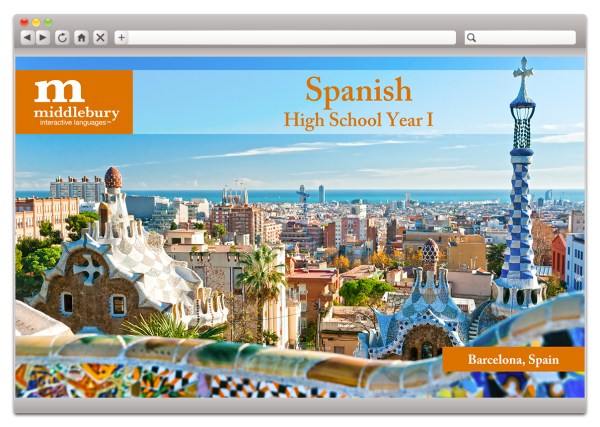 Middlebury Interactive Languages helped exceed our expectations, because she caught on really quickly and made progress in both her on-line Spanish and her at school Spanish.
Middlebury Interactive Languages has a
special homeschool
only section of lessons for classes in Spanish, French, Chinese and German (but there are also other lessons for non-homeschoolers). Here is a break down of what they have to offer from K all the way through 12th grade.
Middlebury Interactive Languages approach is using "
real-world" reading, writing, listening and speaking activities. The lessons are self-paced (homeschoolers dream!) the approach is designed to engage the student in the learning process. They use an immersion approach and address both language and culture in the lessons. The cultural tidbits were pretty interesting.
You have the option of getting access to the program with or without teacher access. We did not have a "teacher" with ours and that is fine with us. I think that option would have made A-girl nervous/scared/embarrassed anyway.
The classes are designed to be a semester long, which, to them is 18 weeks.
A-girl only did a few lessons per week, since she was doing them in addition to her normal school work. Although, I will be honest with you, once I saw that she could get through most lessons done in 20-ish minutes......I wondered why she couldn't have done more each week. But, that is just my Mom mentality rearing its ugly head.
The lessons were pretty straight forward, they give you an overview, teaches you the lessons (happily with both pictures and words), games so you can practice your new knowledge, and quizzes.
A-girl said that she liked that the lessons started with common conversational stuff you need to know in Spanish. "How are you?" "What is your name?" and how to respond to those questions. She said the only thing that wasn't helpful is that a few of the things Middlebury Interactive Languages taught was slightly different than her Spanish teacher at school.
The only part of these lessons that A-girl couldn't do completely was the part where you record yourself speaking the words and phrases and compare your pronunciation with the expert, but that was 100% our fault. We couldn't do it because one of my little people stepped on our little microphone headset thingie, and now it is dangling by a thread, so she could hear the proper pronunciation, but couldn't hear hers in comparison.
This is a good, solid, language program. You can advance even up to AP courses, if you put in the work. In snooping around their site, I noticed there was also a program for
English language learners
too.
Not sure if Middlebury Interactive Languages will work for you or your child?
Try a Dem
o and then see what you think.
You can use Middlebury Interactive Languages for either $119 without teacher or $175 with teacher. Those prices are per semester.
Here is what the other
TOS Reviewers thought of the languages classes through Middlebury Interactive Languages
.