If you know me at all, you know I am NOT a math person. Really.
In school, I did really well, and I was even good in math....until 9th grade...Algebra did me in. I just didn't get it. Mr. Anlauf went so fast....so I just kept getting further and further behind....and feeling dumber and dumber. I got my first....and only....F...on a test, in that class. I was mortified. I was
supposed
to be smart. I think it is that point alone...
I was supposed to be smart
.....that kept me from asking questions in class. People thought I was smart. I liked that....a lot. I was a teenage girl in search of a special identity. I liked having the reputation of being smart.
After that class, I shied away from as much math as I could. I only took what was absolutely required of me...nothing more.
So, how can someone who is still, so many years later, sort of afraid of math, homeschool their kids successfully?
Well, for starters, you marry Rainman....who is really, really good at math.
Remember that his nickname is two-fold. First of all, because he is a meteorologist. Secondly, because he can do fast, strange math calculations in his head....like Dustin Hoffman's Rainman.
But, since he is already taken....the rest of you will have to use the
Math Mammoth
program for teaching your kids math at home.
As part of the TOS crew, we got a chance to review a math program called Math Mammoth. Maria Miller, the founder, let us choose what to review from her full range of products, so we could have something we would really or truly needed in our homeschool. She was super helpful in giving advice as to what she thought would work well for us. She was awesome.
Math Mammoth has textbooks and workbooks for grades 1-8, plus some other supplements for high school level math. The supplements you can get by grade level or topic. If you are unsure of where your child will fit in, there are
free placement tests
available on the website.
We have been sort of piecing together a math program for D-man since 7th grade. We used a variety of stuff that we found on the internet, computer CD programs and even old textbooks that we had gotten from a used book store. It worked pretty well for us, but I was afraid that there were some holes in what we were teaching.
Enter Math Mammoth's
Golden Series
. We got 7th/8th grade worksheets from this series...which is basically pre-algebra stuff, because we wanted to make sure that D-man had a good foundation as we have already started moving into algebra. Click
here
to see a sample worksheet.
Since I have an almost deathly fear of all things algebra...I did NOT want D-man to have the same experience I had. Rainman, being, well....Rainman.....does not understand that the rest of the world doesn't have such an easy time doing higher math stuff....on paper, OR, in our heads....so, he is not always the most patient teacher either.
These worksheets have been just awesome....for all of us. Rainman can give them to D-man for practice to show him he really has the concepts down, or to give him extra practice in concepts that he is not as solid in. I have even been inspired to sit down and do some worksheets. I have actually done pretty well.....apparently, without Mr. Anlauf breathing down my neck, I can remember a lot more than I thought!
There was one other product that I was REALLY tempted to try. It is called the
Make It Real Learning
math worksheets.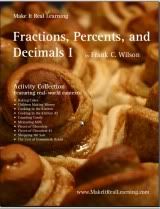 These books use real situations....to teach you....and show you....how you
really will
use math in real life.....like picking the best cell phone plan. I could use one of these worksheets now to help me pick my medical benefit plan for the year 2012!
There are even ones available to help use the higher level math
(Calculus I)
where they can analyze the growth of an infant or how to maximize the volume of a package. That book really is beyond my current mental ability....but, I love the idea behind finding real world stuff to teach with and it will be going on my wish list for high school math for the kids.
Go take a look at all of the
Math Mammoth
stuff. There is a lot to look at, so, take your time.
Oh, and don't get overwhelmed by all the choices....because there really does seem to be something for everyone. If, after you have taken the placement tests and looked at all the samples, you still get confused, just contact Maria Miller and she will walk you through and help you pick what will work the best for you and your family. She really will! Awesome customer service in action!
Math Mammoth is definitely something that we will continue to use and when A-girl gets to 7th grade, we won't be piecing together a curriculum for her....we will just use Math Mammoth right away so we
know
there aren't any gaps in her learning.
Poor D-man, our first born guinea pig!

I have decided that I would have done better in math, if I had a cute little baby to sit on my lap while I worked to find x.
The 7A worksheets (71 worksheets) are available in a PDF download for $7.75 and 7B worksheets (80 worksheets) are available in a PDF download for $8.75. The answers keys for each book are just $2 each. You can bundle them all together for just $14.50. If you like to have a hard copy of things, rather that just downloads, this is also available as a regular book for just $19.50. I think this is super affordable for what you get.
See what other TOS reviewers
thought
of the different Math Mammoth products.

We received a free download of the Golden Series 7A and 7B worksheets in exchange for an honest review of the product.