This is one of the coolest things we have gotten to review....ever.
It is a hand-held, widefield microscope. Hand-held, like you actually carry it around with you....even outside......to look at things under a microscope!
L-girl, A-man and S-girl have had a blast with this....although S-girl doesn't quite have the skills it takes to get everything completely in focus....she still thinks it is really cool to walk around our yard and pick stuff up and look at it under the
Discovery Scope
.
The
information page
on the Discovery Scope website goes into all the great features this little guy has. The last thing they mention is that light makes the difference. And, boy, is that true. The beauty of this is you get your specimen clamped into place and then you move into different lighting to see it in different ways. Like, for example, you could have the light just bouncing off the eyes of your bug.....or you could move so the light is shining through your bug.
The Discovery Scope is very small and most definitely portable.....and definitely sturdy. In fact, if there is any problem during "normal" use of the scope, they will replace the defective part, for free.
It is, quite simply, a way to look up close and personal at things....but not
have to
put them on a slide to do it. It comes with a little clear plastic box, so you can catch live specimens and look at them without having to squish them on a slide. So, you take a look and then release the little guy.
Did I mention how small it is?
L-girl has it in this one. They are looking at a tiny slice of watermelon.

Here is my picture of the dandelion that the kids were looking at. I tried to get one of the caterpillar too....but instead of putting that one in the specimen box, A-man put it in the clamp....and, it died. I did get to see it....but it was gross. Lesson learned.
Alright, my little point and shoot camera set for macros isn't quite cutting it. (There is a
camera adapter
available.) One of my fellow reviewers,
Marcy
, has a fancy Ipad that takes pictures (do they all?) and hers turned out really well. Take a look....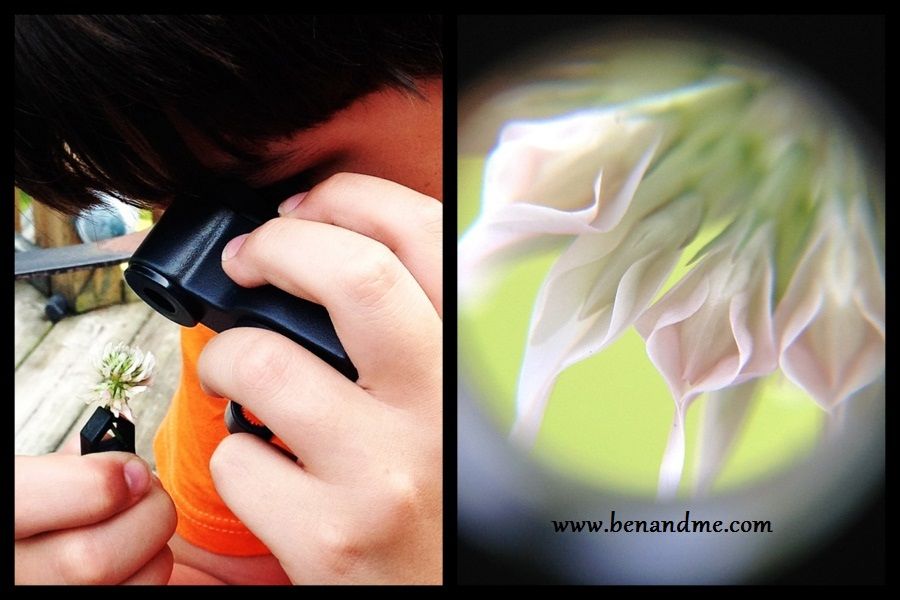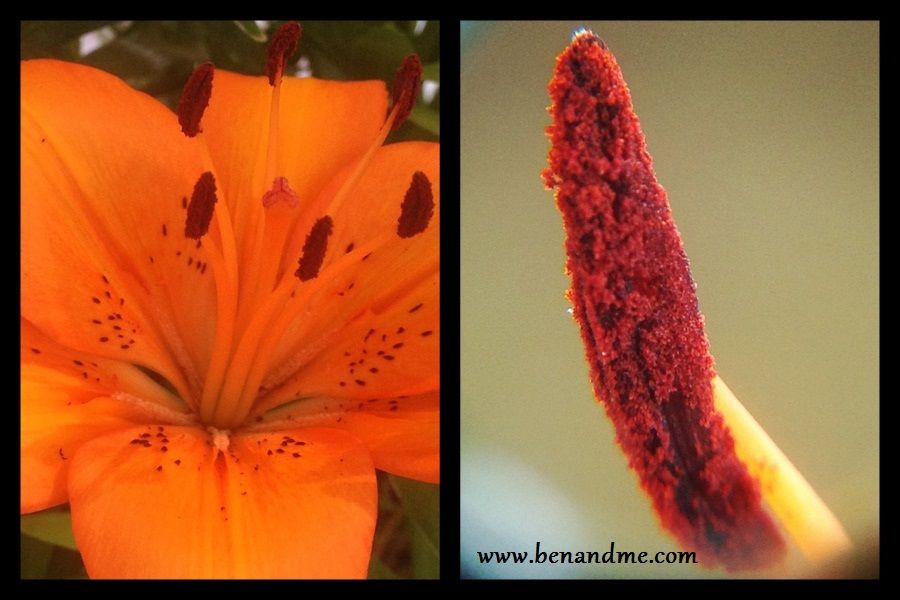 Bottom line is, this is one of those products that is NOT just for homeschoolers. Any curious little boy....or girl.....would love having one of these around when they head out on adventures. It would be a lot of fun to have on a camping or hiking trip.
I know it isn't Christmas yet....but these would make a great Christmas gift....they could look at a snowflake on their mitten....and prove once and for all that each and every snowflake is unique.
You can get the basic Discovery Scope Kit for
$40.00
, which includes, one Discovery Scope©, one mini clamp, one multi-use chamber holder, two 1"X3/4" clear view chambers, and one water dropper. It comes packed in a Tupperware-type container with a lid, so it is easy to throw into your bag and take it on the road with you. That is something you cannot do with a standard classroom microscope.
I love, love, love that it is portable....you can look at stuff in your house....like, uhhhhh....dust bunnies. No, really, you could look at sugar, salt, your toothbrush, a pencil....the bottom of your toys to see their country of origin....the options are endless But it is created so you can walk around your yard and find treasures to look at that don't require picking the flowers off their stems....or killing bugs....again.....we are sorry, little caterpillar.
You can see what other TOS crew members thought of the Discovery Scope
here
.
Disclaimer: I received the Discovery Scope for free in exchange for an honest review.