This is a review.
We got a chance to use a really unique science program from
Apologia Educational Ministries
.

We love Apologia and have used their products around here for years. But, always for our older kids. This time around, we used this for the younger set of students around here.
The curriculum is called
Exploring Creation with Chemistry and Physics
from the Young Explorer Series, which is designed for ages K-6. It was written by
Jeannie Fulbright
. Ms. Fulbright has a very easy to understand, observational tone.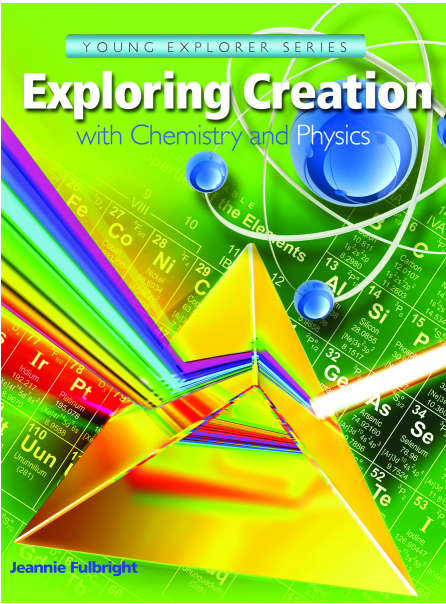 Yes, that was chemistry and physics for your kindergartner through 6th grade students! So, A-man and S-girl got a chance to do science.....real science.
This course has a total of 28 lesson. This particular curriculum also has a notebooking component to use alongside the textbook. We used the
Chemistry and Physics Notebooking Journal for Exploring Creation with Chemistry and Physics Junior Edition
.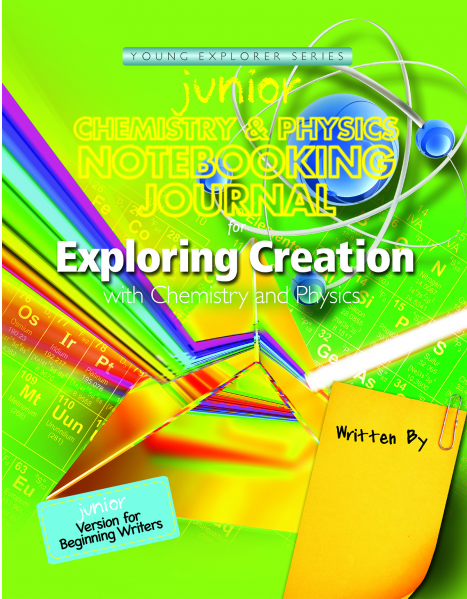 All of the Apologia textbooks all do a good job of letting you know what is in the books and also how to use them, in a true step-by-step guide.
There are tips and just basics of what you need to know before you start. For this book, they have n answer key for the question asked in the book, and also a supply list divided by lesson. Actually, at first glance, the lists are long and detailed, and a little intimidating.....but a lot of the stuff you will already have at your house.
The list will have things like a graduated cylinder, a turkey baster, aluminum foil, magnifying glass, empty toilet paper tube, WintOGreen Life Savers, or a small LED. See? A few real science things and lots of junk from your house.
So, how
do you
teach chemistry and physics to little kids????
D-man, who is taking chemistry this year, could not believe that I was even going to attempt to teach A-man and S-girl chemistry and physics. He kept saying stuff like, "there is no way you can teach them that stuff! It can't really be chemistry!" I handed him the book and told him to take a look. So, he took a look.
Here is what they cover:
Chemistry and Physics Matter
Moving Matter
Building Blocks of Creation
Compound Matter
Multitude of Mixtures
Mechanics in Motion
Dynamics of Motion
Work in the World
Sound of Energy
Light of the World
Thermal Energy
Electrifying Our World
Mysterious Magnetism
Simple Machines
Yup, real chemistry and physics. Obviously, they are not using calculations and equations, but they are definitely teaching and introducing the concepts and scientific law behind true chemistry and physics.
So, you start by reading the lesson. I read this aloud to A-man and S-girl...but, really, A-man probably would have been okay reading it on his own. The lessons are probably longer than your younger kids will be used to at 15-20 pages long. But, the good news is you don't have to do all the pages at once.
They have a suggested schedule that you can follow....if you don't want to come with up your own. They recommend working 2 days a week, which gets you through each lesson in 4 sessions, or 2 weeks. You don't have to follow their schedule and can just do it at your own pace. So, even though a schedule of 2 days a week should have seemed very doable, we didn't follow it exactly since we were in the middle of the move. Some weeks we did 2 lessons, and some we didn't. The good thing was, that kept this course fun for the kids and didn't overwhelm me. (Though, if we were in a different place and had been settled in our house, I totally would have followed their 2 lesson a week plan.)
One of their suggestions in the "how to use this book" is to have the kids
tell
you what they learned, especially if they are too young to write that sort of thing down. I found it pretty interesting to see what A-man and S-girl took away from the lessons....usually they were completely different things.
Within the reading, there are projects and "Try This" where you use the stuff from your supply list to show your students how chemistry and physics works. Like sticking a bamboo skewer through a blown up balloon without popping it. Anyone know what that teaches? Anyone? Beuller? Beuller? It actually shows how polymer molecules twist around the skewer and create an airtight seal.
After the reading and trying things in the textbook, you can work on the stuff in the notebooking journal. It has a little bit of everything in it. There is copywork, using scripture....this is Apologia, afterall.
They have more experiments or projects to try called "Test It Out". Here is one from Lesson 11 (that we haven't gotten to yet). In this lesson, we will learn about Thermal Energy. The Test It Out explores more by having them try Thermal Expansion, with an easy to try experiment of filling an empty soup can with hot water, putting that in a bowl and then putting it in the freezer....and then checking on it the next day. Easy to do. Easy stuff you already have at home. Quick-ish results.
There are coloring pages, vocabulary words, suggestions for other books and websites that have more information on the concepts being covered.
At the back are already printed activities, like minibooks, flipbooks, matchbooks, that you just have to assemble to use. This one is for Lesson 8 called "Work in the World" and covers the different kinds of energy...Chemical, Kinetic, Nuclear, Coal, Solar, Bio Fuels, etc.
In the notebooking journal, there is an activity called Fascinating Facts where they are supposed to write (if they can) what they remember about the lesson. They can draw pictures and write a few things down. Here is where I understand Apologia's philosophy,
in theory
, but not necessarily in practice. They recommend that you let your child decide what was an interesting or important fact. Okay. So, far I am still with them. There are no right or wrong answers. The idea is to give them autonomy and keep science fun. Like I said, I understand their thinking....in theory. I just have a problem with there being no right and wrong answer.
Even though we didn't delve into this super deeply because of our move, and barely scratched the surface of what the books had to offer, I still have a
strong opinion on this curriculum
. I say the same thing D-man did. Wow! They really teach them this stuff! This curriculum really teaches physics and chemistry in a way that younger children can understand and try it.
I have officially added this to our lesson plans so we can continue to work through the book at their suggested 2 days a week plan.
I am really curious to see how my younger kids do once they get into the upper level sciences because my older kids never delved into this stuff when they were this age. I think it is a fabulous idea to introduce the "hard" sciences early on, just like Algebra concepts, because even if they don't totally get the scientific laws they are learning, at the very least, they won't be scared of it when they officially get there when they are older. Right?
You can get the Exploring Creation with Chemistry and Physics textbook for
$39.00
and the Junior Notebooking Journal to go along with it, for
$24.00
Take a look at what
other TOS Reviewers thought about Apologia's Young Explorers Exploring Creation with Chemistry and Physics
.