The answer, as the evidence on my hips clearly shows, is a resounding, yes!
In this case though, the ice cream will not be adding inches and unsightly bumps to my hips and thighs....but, instead, a way for my bigger girls to have fun, on-line.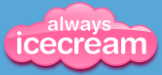 Always Ice Cream
is a website devoted to learning games for girls ages 7 to 12.
Girls only.
No boys allowed.
This site is everything a girl could want. Happy. Pink. Pretty. Did I mention that there was pink?
It actually combines the good stuff that parents want for their girls....smart stuff, like....math....science....geography....
...with the stuff that girls want (whether it is politically correct...or not) .....wedding dresses....cupcakes....cooking.....clothes....music.
My big girls, A-Girl and L-Girl got the chance to use this site, for two months, as part of a review for The Old Schoolhouse Magazine (TOS).
They played games like typing, multiplication, synonyms, identifying countries in Europe, anatomy, dog breeds, babysitting, waitressing, dress the bride and many, many, more.
They could have even practiced their Spanish or German....or worked on fractions!
For me, as a somewhat modern mom, I thought that there was just the right balance between the fun, fluffy, girlie stuff and the not so stereotypically girlie stuff.
There are games that I had to request that my girls do....like adding fractions and identifying the countries in Africa.....but, they did end up having fun with them....they just didn't necessarily appeal to them
over
the ones that designed their wedding dress or their own Victorian outfit!
The site has a MiniWorld where they can design and decorate their own homes...or castles. They use the "scoops" (of ice cream) that they earn from playing the games to buy things like furniture or even a bigger house.
It also has a video section that has lots of videos to choose from....all the way from silly ones- a panda bear sneezing....to the more practical - to how you repair a flat bike tire.....how to decorate a cake.....how gold is made....and even how to multiply fractions.
Always Ice Cream also has a parent summary page that lists basically everything that your daughter has done on their site in the last 90 days. What games they have been playing, what levels they have mastered and what medals they have been awarded.
There is a chat function capability on this site too. We didn't use it as I don't think my girls need to be chatting (even safely) with other strangers around the world. But, their site has earned the
Privo Kids Privacy and Safety certification.
, so, I believe that it would have been safe for them.....however, I still didn't think that it was necessary for them to chat with girls, yet.
When I first heard about this site that was made just for girls....I sort of didn't see the point...but, after seeing how much fun my girls had on this site, I changed my mind. The creators of Always Ice Cream
really
seem to know what girls like.....

You can try a
Free Trial
of Always Ice Cream or you can subscribe for $4.99 a month....but you get the first month for only $0.99! You can go month by month, get an annual membership for $29.99, or, get a lifetime membership for $99.99. You can click
here
for more detailed information on the various membership options.
So, the question I asked at the start begs to be asked again.....Isn't it always time for ice cream?
I
already said yes.....but, now, L-Girl and A-Girl also say, yes! Although we are talking about 2 different kinds of ice cream.....the fact remains, that, Yes....it is
Always
time for
Ice Cream!

The girls and I received 2 months of free access to Always Ice Cream, in exchange for an honest review of the website and its features.
To read what other TOS crew members thought about Always Ice Cream, click here.