This is a review of a fun little book called,
One Minute Mysteries: 65 More Short Mysteries That You Solve With Science!
It is from a company called,
Science Naturally
.
One of their tag lines on their website is "Bridging the gap between the blackboard and the blacktop". I love that, because it is so necessary not to just teach your kids book smarts, but street smarts too.
The book we got to review,
65 More Short Mysteries That You Solve With Science!
, is actually the sequel to
65 Short Mysteries You Solve With Science!
Both books were written by the father-daughter team of Eric and Natalie Yoder.
Apparently there are a lot of scientific mysteries floating around the world!
Okay, so what is this book?
They are little short stories...and, by short stories, I mean 1-2 page stories that have a little "mystery" that can be solved using basic science knowledge. Sometimes the "mystery" was so basic, we didn't really think that it could be the answer to the problem....but it was. Once we sort of got the swing of it, we had a lot of fun.
The book is intended for about ages 8-12, but, we used this as bedtime reading.....for everyone. Even D-man would join us once in a while! We would pile into my bed and I would read aloud the story. It took us a few stories to figure out exactly where we should stop and do our sleuthing, but we figured it out.
The book sat on my bedside table until one day.......it just......disappeared.
It was another mystery to be solved. Dun, dun, duuuuuuh!!
Actually, A-man took it....apparently my reading 3 or 4 a night wasn't enough for him, so he took it to his bedroom to read some more. The only problem was when we went back to read the stories to the other kids, he would already know the answer...and sometimes he couldn't stop himself from blurting them out....which sort of ruined everyone's fun.
These stories are short and sweet, so plan on reading more than one in a sitting. Every single time, I would be faced with a chorus of "just one more".
Was it a little tactic to stall bedtime?
Maybe.
Possibly.
Probably.
But, really.....is it that horrible that they go to bed 10 or 15 minutes later because their mom is reading to them
and
they are learning a bit more about science?
Nope. I didn't think so either.
The only thing I might change is for them to put in a STOP sign where you are supposed to start figuring out the answer before you plow ahead and accidentally read the answer. Like I said, it took me a few stories, but I did figure out to stop at the bottom of the first page, on my own, so I didn't give away the answer before the kids had time to think. It really wasn't rocket science....but apparently, by bedtime, I am a little slow.
I will admit that I didn't know all the answers to the mysteries, so that made me feel a little dumb...but when I did know the answers, I had the sense that I was really smart.....so, I guess things evened out.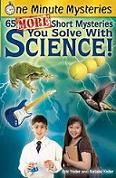 On the Science Naturally website, you can try the
"Mystery of the Month"
too to just sort of try your hand at what these books are all about. And, I don't have an iphone, and ipad or any of those fancy schmancy things, but if you do, they have a
FREE app
based on their
101 Things Everyone Should Know
books.
You can get this fun little book for
$9.95
. But, if you are interested in a few more books from Science Naturally, they have a coupon code that will give you a discount.
Just use the code 3SPEC to purchase any 3 books on the website for $19.95 plus $2.95 shipping. (a $12.90 savings)
They have a few book sets I want to tell you about too. There is the
Smart Kid
Set, which has two of the short mystery books and two of the 101 Things That Everyone Should know for $34.95. The
I Love A Mystery
set is $24.95 and has the two mysteries you solve with science books and one book that solves mysteries with math. That one sort of scares me, but maybe I would know more math than I thought????
I really just think these are fun little....(don't really realize that I am learning something)...kind of books. I mean, if a book is stolen from you by one of your children, I think that is a pretty good indicator that it is a great book! Perfect for every family....even if you don't homeschool!
Take a look and see what the
other TOS reviewers thought
of this fun little book.