This is a review of
Spanish for You!
For this review, we were able to use the
Estaciones
- or seasons book and lessons.
A-girl, like all of my kids, has
sporadically
had foreign language as part of our curriculum here at home.
Spanish for You! has lessons for grades 3 through 8, so I decided that A-girl would be our guinea pig for this one, since she is in 7th grade and will need foreign language credits when she gets to high school.
Because of our crazy life right now and trying to sell the house, I asked A-girl to be somewhat independent in her studies.
It worked out pretty well.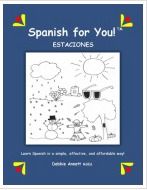 We got a physical lesson book, but then there is a downloadable component too, which includes worksheets and audio files so you can listen to how things are
supposed
to sound by native speakers.
We got everything downloaded that we needed to, I showed A-girl where she could find everything she needed and off she went.
Here are some
sample pages from the Estaciones
lessons.
Remember, this program can be used by grades 3-8, so, she just started by looking at the lesson plan specifically designed for Grades 7-8 and dove in.
I love that the lesson plan spells out exactly what to do on which day. It is designed to be worked on 4 days a week. But, A-girl usually did 3 days a week and just did the day 4 work on her day 3.
A-girls opinion of this language program was overall pretty positive. She said that it wasn't as boring as some other language lessons she has done. She also liked that the "textbook" was so small. (I think she thought that it was going to be pretty easy because it is such a skinny book.) The book is small - but let me tell you there is a lot packed onto the pages. Plus, since you have all the additional audio files and download components, like worksheets, the size of the book is deceiving!
I really liked that the program was organized so well that she could tackle it on her own, without me having to breathe down her back. The lesson plan really lays it all out, so there really isn't a question of what to do next...or a question of whether you are doing this right....or not.
I remember sometimes all I did in Spanish class was conjugate verbs. Spanish for You! covers that, but, you don't spend the whole time conjugating!
Available through their website are lots of
games and activities
to use along with the lessons too! Much more fun than 30 minutes conjugating verbs, right? They even have
free worksheets
that you can access through their site, even if you aren't using their program.
I like that it is theme based on not knowledge based, if you know what I mean. Instead of trying to figure out if your child is a beginner, or at intermediate level, you can pick something you are interested in and learn the Spanish words around that topic.....at your desired grade level. We picked Estaciones (seasons) just because Rainman is a weatherman!
The tag line on the book is -
Learn Spanish in a simple, effective, and affordable way!
This is a simple way to learn Spanish.
It seems to be an effective way to learn Spanish, but.....
......that last one - affordable - is key for many homeschoolers because most often, we are on a very limited budget. There are great curriculums out there for everything, including Spanish....but some of them also cost an arm and a leg. Spanish for You! doesn't.
You can get the Estaciones package for the individual grade levels for
$39.95.
If you want a package that covers all the grade levels and has everything you need, that is
$64.95.
The TOS Reviewers got to try some of Spanish for You!'s other offerings. Go take a
look at what they thought
of this affordable way to learn Spanish.