How much do we really know about the Pilgrims?
We know that they wore black clothes with big white collars and shoes that had big buckles on them, right?
Actually, no....they didn't....that is just how they were drawn.
("I'm not bad, I'm just drawn that way."Jessica Rabbit.)
The pilgrims actually wore "earthy" colors so no matter what kind of work they did....they would always look clean. Oh, and buckles weren't even in style then.
We learned this little tidbit and many more by using the
Dayspring Christian Academy
on-line class called
The Pilgrim Story
.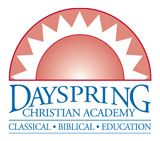 Dayspring believes in the Principle Approach. Which, looks at all subject matter through the scope of a Christian worldview. It looks at seven basic principles: individuality, self-government, Christian character, conscience, government, local self-government and political union.
Dayspring Christian Academys purpose, in a nutshell, is to help equip families and students to:
Acknowledge the Lordship of Jesus Christ in every area of life

Demonstrate a biblical world view

Become citizens of excellence in Christian character and scholarship

Restore America to her Christian purpose.
Now, we are a Christian family, but, we don't stick God and being a Christian in every sentence we speak or even necessarily in everything we teach around here. But, it is a huge part of who we are, so I have no problem looking at history in the context of a Christian worldview....especially for history surrounding the Pilgrims....since their whole story revolves around the church, God, and how they wanted to worship Him.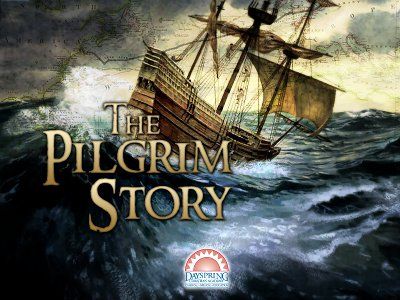 (Doesn't that just make you sea sick looking at this picture?)
The Pilgrims Story was sort of an intriguing way to do a special unit study on a subject. It is a combination of a lecture, movie, quiz, slide show, with crafts, activities and recipes all rolled up into one. The best thing (for me) is all we had to do is show up. I think, this is the way to start with unit studies....with little or no thinking or preparation needed from me. Much less scary that way, don't you think?
Here are the main subject areas that are covered:
Unit One
-King Henry
-Geneva Bible
-Life in Scrooby
-Liberty of Conscience
-- Unit One Test
Unit Two
-Leaving England
-The Second Escape Attempt
-Leiden
-Preparing to Go
--Unit Two Test
Unit Three
-Leaving Leiden
-Conditions on the Mayflower
-Building Christian Character
--Unit Three Test
Unit Four
-The Mayflower Compact
-Exploration
-The First Winter
--Unit Four Test
Unit Five
-Spring, 1621
-The Wampanoag People
-The Rest of the Story (the next three years)
--Unit Five Test
The course ends with a virtual field trip to Plymouth, Massachusetts. The creator of this course, Mary Stauffer, has been a tour guide there for years.
Now that is a unit study I can be comfortable with.
There are tests and everything
!
Since it is designed specifically for grades 3 through 6, L-girl (5th grade) and I have sat down and worked through The Pilgrim Story. We are in the middle of Unit 4.
In addition to learning that the Pilgrims didn't really wear buckles on their shoes....and big white collars on their clothes, I also, unfortunately, know what "hardtack" tastes like. (That was one of the extra activities.) Makes you really appreciate modern times....and food!
Each day, you log into
Dayspring Christian
and get to the correct unit and lesson. At the start of each lesson, the first thing you do is click on the "resource" button. This has all your vocabulary lists and activity sheets that you will need for the lesson. You just print them out and then get started. I describe this is being sort of a "slide show" format because while the are pictures shown a narrator teaches and tells the story, but you have to click "Next" when you are ready to move onto the next slide.
Each lesson took us about a 30 minutes....some were a bit longer.....but, in general, you should plan for about a 30-45 minute lesson. During the lesson, you listen and watch, and fill out the worksheet that you print off before starting each days lesson.
Completing the worksheets are super easy, because they tell you exactly what needs to be written down by underlining it on the slide. There are lots of other extra activities like mapping or making hardtack that are done on your own time....separate from the lesson.
L-girl made a notebook that held all of her completed worksheets and written activitities which made it easy to study.
Everytime you move onto a new lesson, there is a review/quiz that covers what you have already learned (hopefully), which is corrected as you go.
Here, this will give you an idea of how the lessons actually work.
L-girl is doing okay with this style of learning. It is really interactive and requires you to be involved and not just zone out while you are sitting at the computer. She did get a little bored sometimes and, generally, doesn't like the review portion at the beginning of the lesson. Which is actually one of my favorite parts, because it proves to me whether she is retaining anything or not.
Some days have obviously been more interesting to her than others. But, overall, I think she is getting a pretty good idea of who the Pilgrims were and why they are important to American history. She got a lot more out of this than the usual....."
Then, the pilgrims sat down with the Indians and had the first Thanksgiving dinner....now pass the turkey
".
If you just want to request information on Dayspring Christian Academy you can fill out
this form
and they will get it to you. (They are also a private school in Pennsylvania.)
If you want a detailed look at the Pilgrims, what came before they fled England, what made them tick and make the decisions that they made, you can get access to this on-line class for 6 months for
$99.00
.
I know our discussion around the Thanksgiving table will be much different this year than in other years....because we know so much more this year. I do
not
plan on serving hardtack....although, Rainman packed some in his lunchbox, for work.....willingly....and not just to make L-girl feel good. He actually ate them. Sometimes I just don't understand that man.
See what other people on the
TOS Crew thought of The Pilgrim Story
.
Disclaimer: We received 6 months of access to Dayspring Christian Academys The Pilgrims Story for free, in exchange for an honest review.