Apologia Educational Ministries
is definitely a huge name in the homeschooling community.

This time around, I got to try
The Ultimate Homeschool Planner
and not an actual curriculum product.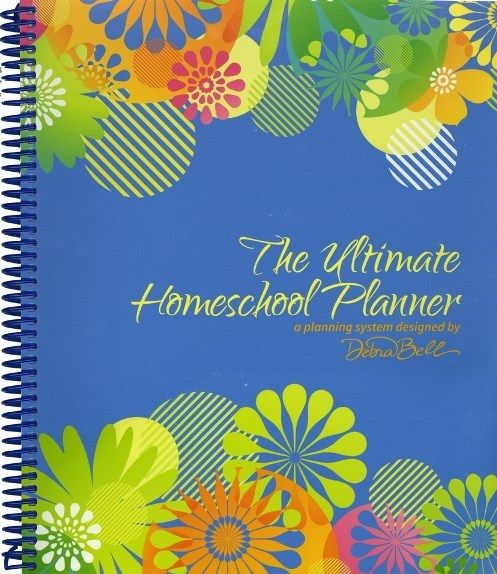 Seriously....for you people that know me in real life.....could they have picked a more perfect looking planner for me? I mean, really, I could practically hang it on the wall in my living room for art. LOL It made me so happy just to look at it, I almost didn't want to open it up!
Let me give you some details of what is in the planner. It starts strong (and perhaps a little scarily) with a calendar spread from 2015 -2023....for long term planning.
The Ultimate Homeschool Planner is meant to be used in conjunction with planners that your kids can use.
The Ultimate Weekly Planner for Teens
(ages 7th - 12th grade)
The Ultimate Daily Planner for Students
(ages 4th-8th grade)
These planners were created by home school moms Debra Bell and Zan Tyler. I will admit that I was getting a little scared of the planner until I read a bit of their overview. They said things like....planning doesn't get rid of chaos and disorder, but can reduce it. They used the phrase "order brings peace". I totally understood that. Then, they got even deeper on me and talked about planning for your days being a way to bring a greater awareness of God's activity in my homeschool journey.
They moved from this overview into a 12 page user's guide to explain their recommendations or vision when they created it. Yes, I started getting scared again. But, it really made sense. It helped that I knew right from the get go that these women understood my life. They said one of the most profound and truthful statements ever on the first page of the "How To" section - they said, "There will always be more to do in homeschooling than you have time to do." Yes. Yes. Yes. They get me and my mind.
Honestly, this whole thing planner experience was a roller coaster for me. They would get me and reassure me - we would have the exhilarating ride up and then, they would bring me way back down plummeting me down the rails - with things like their recommended Plan for Peace recommendations:
1. A yearly planning retreated (4-8 hours)
2. Monthly planning sessions (2 hours)
3. Weekly planning breaks (30 minutes)
4. Monday morning tutorials (20 minutes per child)
5. Friday afternoon weekly reviews (15 minutes per child)
Can you hear my screaming, hands in the air, descent from wherever you are sitting?
Hahahahaha....just kidding. But, those times did make me a wee bit nervous! There was a section about prioritizing and it said something along the lines of this little tidbit....you are unlikely to have many school years where goals are realized. Okay....feeling a little more grounded now. Then, they moved on to "rejuvenate" with weekly planning sessions. I liked the sound of the word "rejuvenate"....if you want me to spend 30 minutes a week "rejuvenating"....that sounds pretty good, doesn't it?
I started getting a little more motivated and inspired when they explained how the Monday morning tutorials should go. It is a fabulous idea to spend time with each of your children and discuss their upcoming week. I love the idea of specific, scheduled, prayer time together. Ties right into my
Not Just A Sunday Thing
concept.
Okay.....this is turning into a nice, tame, not making me nauseous kind of ride. It got better with the little 5 steps to independence - which, honestly, ties into how Rainman and I have kind of done things with our kids already.
If I was still having second thoughts about this planner - especially the 4 to 8 hours they recommend for yearly planning session. It was much less scary when I looked at the 2 page spread of an example of how to tackle the Yearly Planning Retreat. Seeing it in pictures made it seem way less scary somehow. (kind of like IKEA directions....)
Absolutely loved their recommendation to utilize the website
DesiringGod.org
and their list of "
fighting
" verses. I also love that they recommend setting character goals and not just academic goals.
So, I was feeling pretty good about this planning system. Not nearly as scared as before.
(Hmmm....my computer won't let me change this one so it is right side up! The quote is worth having to work a little harder to read it though...)
I loved the inspirational quotes on the pages, love that it wasn't pre-dated, so I could start my year when it worked for me. I loved that the weekly planner chart includes sections for your "battle plan" and encourages you to have a fighter verse AND sections for hospitality/outreach.
They have a separate section for your to document your "memorable moments" (family funnies - victories - progress - promising signs - small beginnings - finished projects). This is one that I love the idea, in theory, but I have to wonder if I would really do it. But, I love the idea in its concept.
There is also a separate section for you to document "evidence of grace" (God's grace - God's mercy - God's faithfulness - God's protection - God's provision). Can you imagine if you actually wrote all of that stuff down, so you wouldn't forget all that evidence?!?!?
So, using this planner has been a little off and on...a little of a roller coaster ride, if you will. Ha! I am sort of getting my sea legs and figuring out the best steps for us and setting up new routines and systems for us as individuals and as a family. But, I am as excited about this as I have
ever
gotten about a planner....that is saying something!
Take a look and see what the other
TOS reviewers thought of their Ultimate Homeschool Planners
.
Facebook:
https://www.facebook.com/apologiaworld/timeline
Twitter:
https://twitter.com/apologiaworld
Pinterest:
https://www.pinterest.com/apologia/
Google+:
https://plus.google.com/105053356034237782125